Canada's Electric Fireplace Experts
Adding a fireplace to a room can be challenging. With an electric fireplace and our design expertise, it's easy to create an inviting room that you'll love to share with friends and family.
At Stylish Fireplaces by Huntington Lodge, we know that the construction of today's airtight, energy-efficient homes favours electric fireplaces over wood-burning or gas systems. We understand why this is so, and we're happy to educate our clients, as well. If you're unsure whether to go with electric rather than gas or wood for your new fireplace, let us know and we'll be happy to guide you through the differences.
When it comes to fireplace design, we have always approached the selection of a fireplace with an eye toward the design of the entire room and the success of the entire project. Our business was founded on the belief that a fireplace is much more than an appliance. If you're having trouble choosing the right fireplace for your room, or you don't know how to make the rest of the room work with your new fireplace, why not take advantage of our in-house design expertise and let us help you.
We work with both homeowners and trade clients. To help all of our clients make the right choice, we've specifically designed our showroom to highlight a wide variety of quality, top brand electric fireplaces, from modern to traditional. We also feature many unique wall coverings and finishes to enhance our fireplace designs, to help you visualize the finished project.
We've established a reputation for service with our valued trade accounts. We are experts at incorporating fireplaces into stylish room designs, as well as advising on technical issues and customization.We are proud members of BILD and DDA and we help Architects, Builders, Contractors and Designers look good to their clients. We are here to help you accomplish your design ideas, ensure expert installation and assure your clients that they'll receive lasting benefit from their fireplaces. If you need specific customization, talk with us.
Whatever you dream up, we can show you how to make an electric fireplace work in your space—freestanding, two-sided or wall-mounted, with elegant cabinetry, custom-made mantels, or home theatre options. We can even help you dream up a new space and make that a reality, too. We're here to help. Even when you need more than a fireplace.
Would you like to see how our fireplaces look in homes and businesses? Check out our Inspiration Galleries or visit the electric fireplace experts today, conveniently located in Vaughan, just north of Toronto.
Meet Colin & Jeanne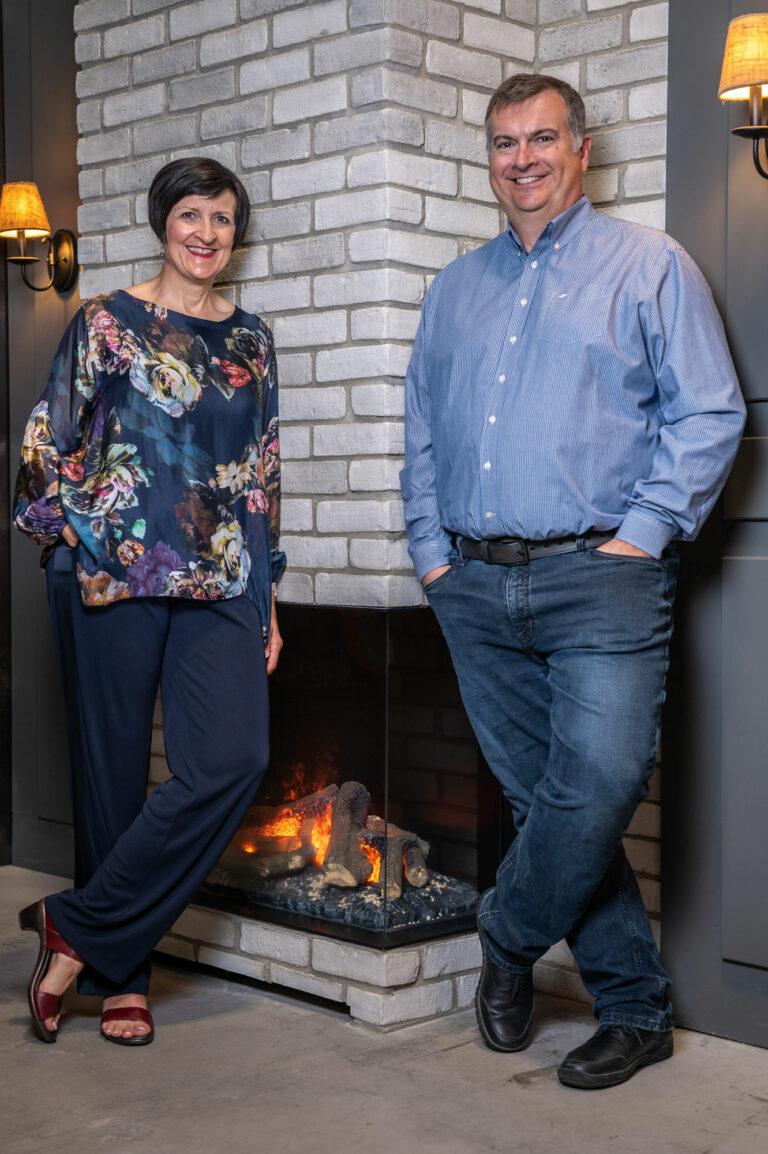 ​
NFI Certified Hearth Design Specialists
Owners Jeanne and Colin Grier are NFI Certified Hearth Design Specialists. This means that they have passed a rigorous exam and proven their knowledge of all types of hearth systems, including wood-burning and gas fireplaces. They have taken this extra training so they are better able to help their clients understand the differences between various fireplace options. Customers can rest assured that when we help them to compare electric fireplaces to gas and wood, we actually understand those differences on a technical level.
In addition to their hearth expertise, Jeanne & Colin bring a combination of business acumen and interior design expertise to the fireplace business. Jeanne has a Bachelor of Commerce degree, and ran an award-winning interior decorating business for over 20 years. Before joining the family design business, and developing the fireplace division, Colin worked as a General Manager and accountant for a variety of companies, including several that supplied products and services to the construction industry. Clients benefit from their design and renovation experience, as well as their history of customer service excellence.
Accreditations