Canada's Local Electric Fireplace Shop
Welcome to Canada's Best Electric Fireplace Showroom!
Step into the quiet comfort of our warm, inviting showroom. Wherever you live in Canada, we want you to think of our showroom as your local source for the best electric fireplaces.
Whether you visit in person, or you rely on our team of associates to be your eyes and ears, our showroom offers hands-on access to over 50 of the best electric fireplaces. Try getting that from a call center!
Our beautiful showroom is conveniently located close to the Highways 7, 407, and 400 for easy access from Toronto and the GTA, as well as all parts of Ontario. We have the best selection of electric fireplaces in Toronto and York Region, so we can help you to find the one that's right for your room. Can't make it in person?
Check out our Video Showroom or book a virtual visit with our scheduling tool.
We have designed our showroom to make it easy for you to compare sizes, styles, and shapes. We offer the best brands in the industry – Amantii, Dimplex, Faber, Modern Flames, and Napoleon – and we are always on the lookout for new and exciting products.
When you make time to visit our showroom, virtually or in person, we make time for you. Bring your drawings and photos and get the information you need to find the perfect electric fireplace for your project. If you're travelling from out of town, feel free to call ahead and schedule a time with one of our experts, so we can give you our undivided attention.
Our showroom team is led by Colin & Jeanne, who are NFI Certified Hearth Design Experts. This means that they have passed a rigorous exam and proven their knowledge of all types of hearth systems, including wood-burning and gas fireplaces. Let us help you to find the perfect electric fireplace, so you can live stylishly ever after.
Schedule a Virtual Consultation
Virtual Consultations are available by appointment.
Monday to Friday
9:00 am to 5:00 pm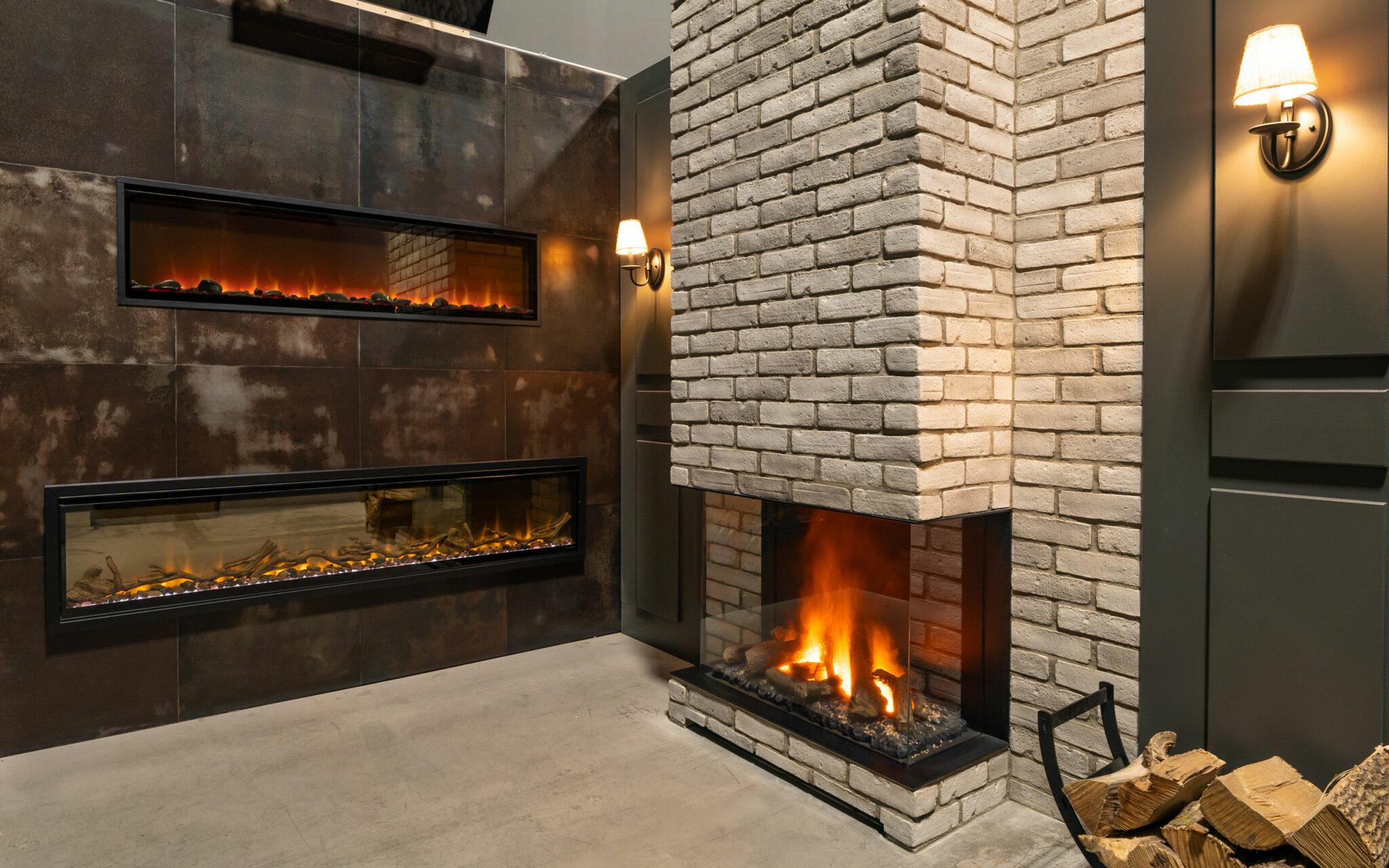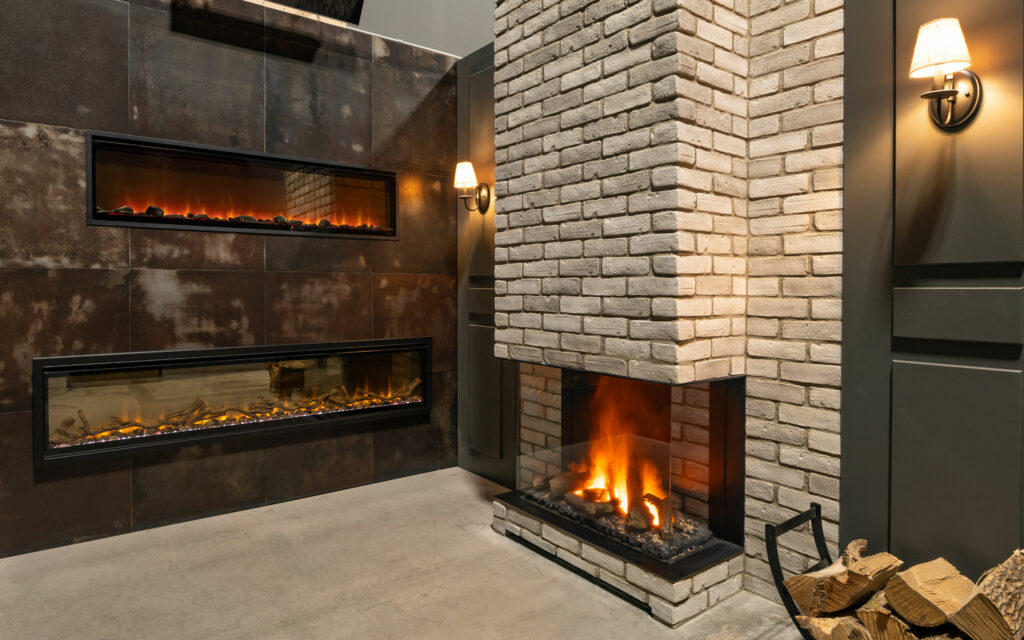 Electric vs. Gas Fireplaces
Is an Electric Fireplace right for my project?
If you're not sure that electric is the way to go, or what the differences are between fireplaces, let our showroom be your classroom. Our associates are happy to explain the differences, answer technical and design questions, and show you firsthand what better electric fireplaces look like. And if an electric fireplace is not right for you, we'll be sure to let you know.
On the flip side, if you are leaning toward electric, and those other showrooms are pushing you toward gas, you've come to the right place. We will never try to sell you a gas fireplace!
Finishing Touches that Inspire
Don't just Install a fireplace – Design it!
Choosing the perfect electric fireplace is just the beginning. A beautiful fireplace deserves a beautiful wall. We have lots of inspiring wallcoverings in our showroom, from stone and brick veneers, to wood planks, to metal panels. We also carry fireplace doors & screens, mantel ledges, and tools – update your masonry fireplace or add an authentic accent to your electric fireplace. You'll experience many of these options throughout our professionally designed fireplace displays.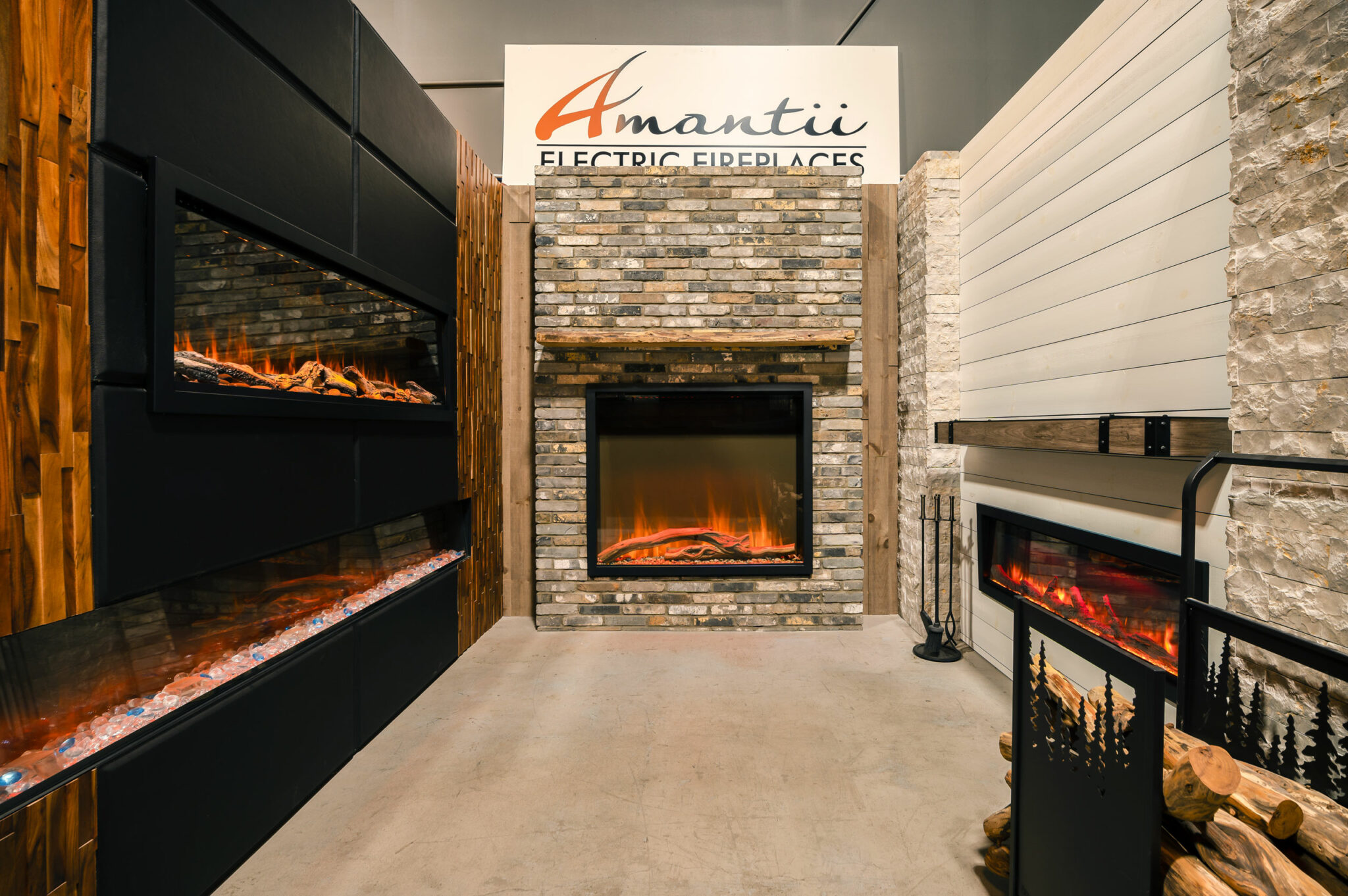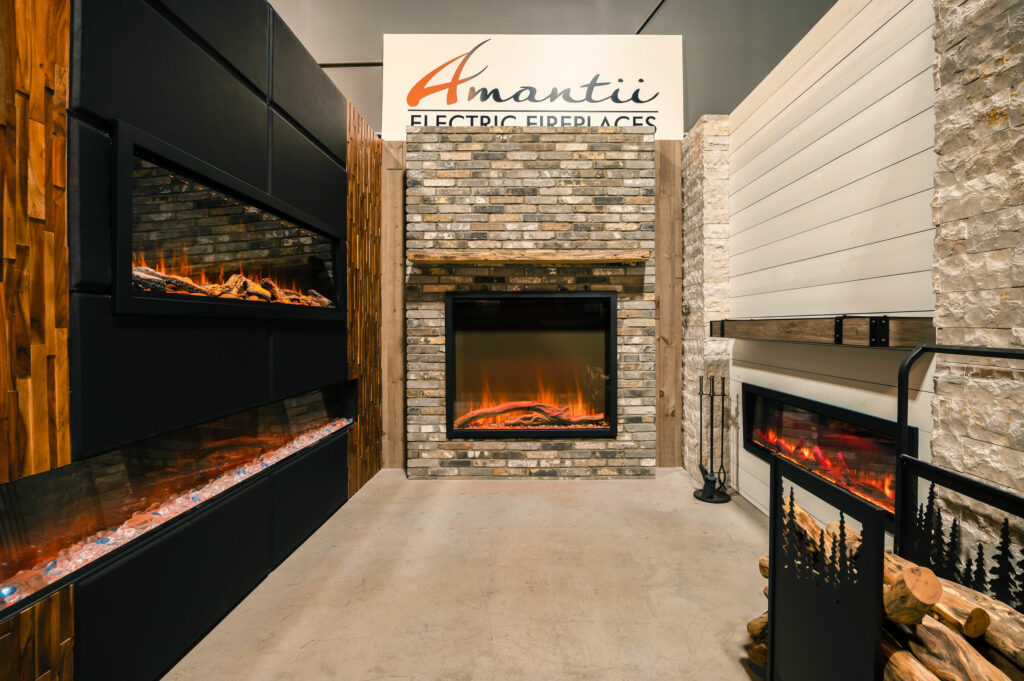 Take a Quick Virtual Tour