As Christmas approaches, and the weather gets nippier, we see a definite up-tick in the demand for our fireplaces. Of course, that's due in part to their ability to take the chill off of any room. But we think there's another force at work, and that's the Christmas spirit. Here are the Top Reasons to add an electric fireplace to your home before Christmas:
"The weather outside is frightful, but the fire is so delightful"
What better way to welcome visitors this holiday season than with a warm, cozy fire. The best part is, if the room becomes warm, you simply turn off the heater and continue to enjoy your fire.
"The stockings were hung by the chimney with care"
If you don't have a wood-burning fireplace, you have nowhere to hang those stockings. And even if you do, they could be a fire hazard. With an electric fireplace, there are no clearance issues, and there is nothing burning inside, so the stockings – and all the goodies inside – will be safe.
"Deck the halls with boughs of holly"
A fireplace makes a wonderful focal point for all your holiday decorating, whether you favour holly or tinsel. Take a look at the work of Benjamin Moore's DIY diva, Leigh Ann Allaire Perrault, on a recent episode of CityLine, where she demonstrated 2 festive decorating schemes around a Dimplex Kenton fireplace.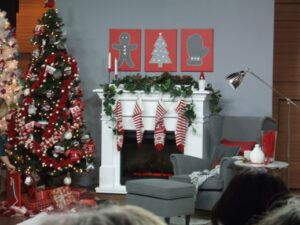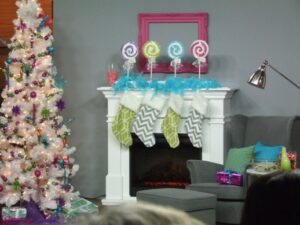 "I'm dreaming of a white Christmas"
A white fireplace is almost always right, and fits into your space like a built-in unit wherever you have white baseboards and moldings. White also makes a perfect backdrop for any holiday colour scheme, as demonstrated here.
"Christmas Eve will find me where the love light gleams"
We think that 'love' light comes from a fireplace, and that glow extends to everyone in the room. An electric fireplace makes any space glow, even in a room where you have no chimney, and no gas line. All you need is a regular 110 volt outlet.
"There's no place like home for the holidays"
If your home is the gathering place this time of year, you want to extend a warm welcome to everyone. There are electric fireplaces that fit just about anywhere, from your front entrance to your dining room to your family room. Even the guest room could benefit from a small mantel or a wall-mounted fireplace.
Happy Holidays!