At Stylish Fireplaces, we sell a lot of fireplaces for basements, directly to homeowners, as well as to their renovation contractors. That means that we answer a lot of questions about electric fireplaces for basements. Here are the top things to consider when searching for the best electric fireplaces for basements:
The Best Electric Fireplaces for basements – for heat
Today's finished basements are no longer cold and damp. However, the basement can still be cooler than the rest of the house. For that reason, it's one of the few areas of the home where our clients still want heat from their fireplaces. Because many basements are big, open spaces, heat requirements for the fireplace will be quite different from the main floor. Almost all electric fireplaces have integrated heaters, and all of these run on 120 volt electrical connections. On 120 volts, most electric fireplaces will generate enough heat to take the chill off an area up to 500 square feet. However, there are also models that have an optional 240 volt capability, and these can heat a larger area. If heat is a big concern in your basement, consider an electric fireplace that can connect to 240 volts. Here are best electric fireplaces for basements, if you want to connect to 240 volts for more heat:
Dimplex Ignite series – XLF50, XLF60, XLF74, XLF100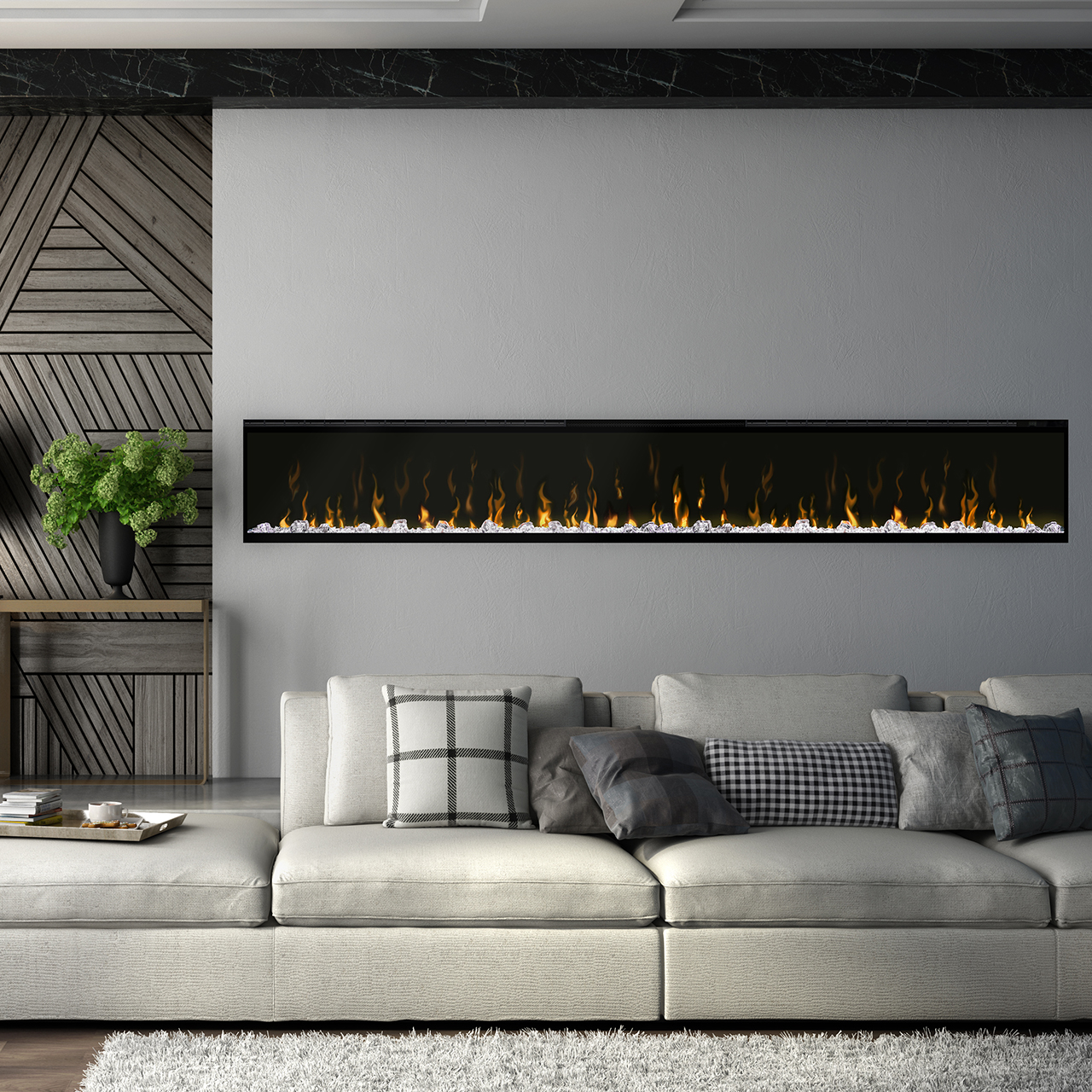 Dimplex Built-in series – BF33DXP, BF39DXP, BF45DXP
Dimplex Revillusion series – RBF30, RBF36, RBF36P, RBF42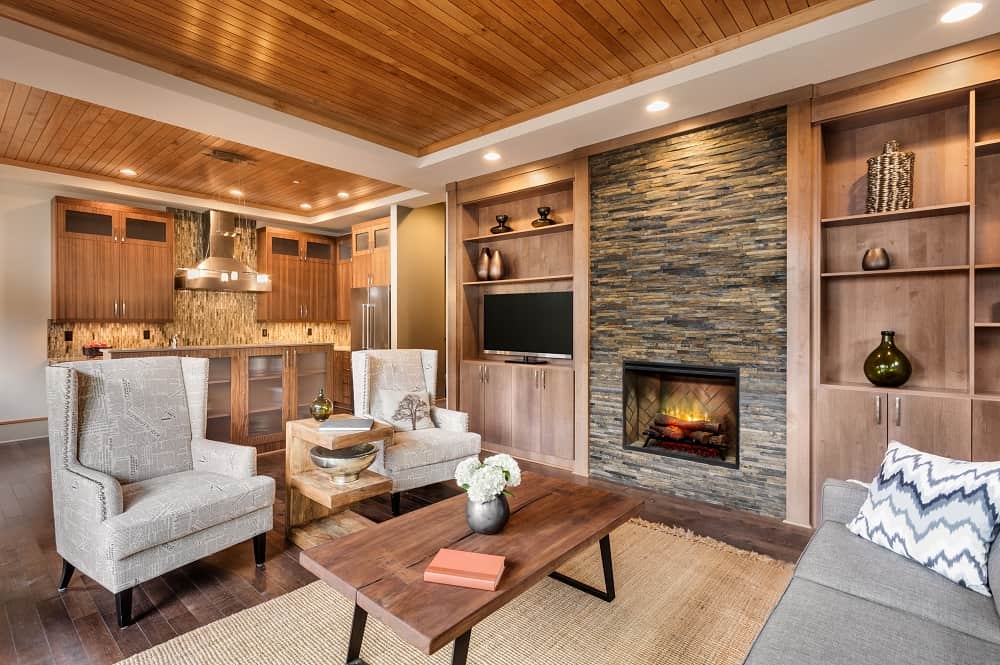 Napoleon Alluravision Deep series – NEFL42CHD, NEFL50CHD, NEFL60CHD, NEFL74CHD, NEFL100CHD
Napoleon Ascent built-in series – NEFB33H, NEFB40H
The Best Electric Fireplaces for basements – for size
Because many basements feature open-concept floor plans, they often have some of the longest walls in the house. For that reason, we tend to sell larger fireplaces to complement those walls. The basement is also the place that many homeowners place their largest TVs, and since fireplaces should be larger than the TVs above, basements tend to need very large fireplaces. Here are the best electric fireplaces for basements, if you need the largest sizes:
Napoleon Alluravision NEFL100CHD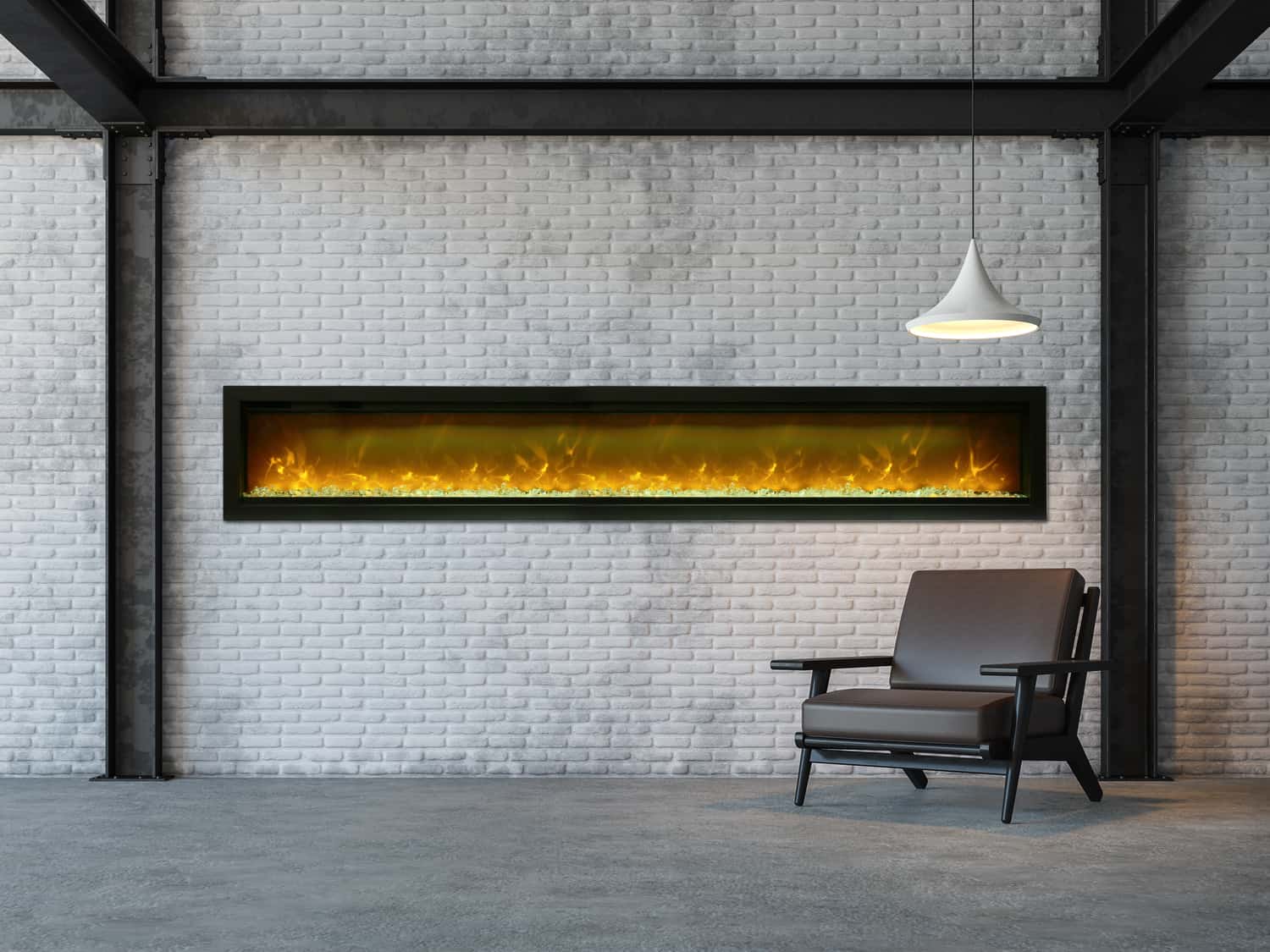 When it comes to basement walls, we like to say 'Go big or go home', so we start with 100-inch fireplaces. However, all of the above also come in 74-inch lengths, if you can't fit 100-inch. We caution you to actually check your measurements and tape out the size we recommend, before deciding. It's easy to underestimate how big the fireplace needs to be, when you're looking at it in a showroom. Try using green painters' tape to map out the sizes on your wall!
The Best Electric Fireplaces for basements – for safety
Basements are where your kids may be hanging out, so you naturally want to be sure they will be safe. While gas fireplaces will get hot to the touch when they are turned on, that is not true for electric fireplaces. Nor is there any chance of electric fireplaces emitting deadly carbon monoxide, because there's no combustion in an electric fireplace. So, the best electric fireplace for basements, for safety, is ANY electric fireplace!
Stylish Fireplaces and Interiors specializes in electric fireplaces. Their Toronto-area showroom is all-electric, with over 50 fireplaces on display. They also carry all the wall coverings needed to complete a project, including stone & brick veneers, leather, wood, metal and glass. Custom fireplace doors and screens from Stoll are also available. The expert staff are NFI Certified Hearth Design Specialists, and have the experience to advise on any fireplace makeover.