In order to keep up with the latest trends for interiors, and particularly fireplaces, we like to attend two shows: Construction & Design Week (a combination of the International Builders Show and the Kitchen & Bath Industry Show), as well as HPB Expo (Hearth, Patio, & Barbecue Association). At Construction & Design Week, we take advantage of two different home tours presented by the National Association of Home Builders: The New American Remodel and The New American Home. Each is a showcase of the latest products and design trends, one built from the ground up, and the other a renovation of an existing home. Add to that over a million square feet of exhibits, and we get a very good idea of what's trending for homes in the coming year. Then we layer in the latest fireplaces at HPB Expo, to start planning which products should take center stage at our showroom, and in our clients' homes.
Here is our summary of the best electric fireplaces of 2019, based on what we observed at the shows.
The best electric fireplaces of 2019 are multi-sided 
Amantii has added to its TruViewXL line with the Cube, a compact vertical fireplace with glass on three sides. Like the rest of the TruView line, the Cube is suitable for indoor or outdoor installations. Because of the extra depth in these fireplaces, the Cube can be set up with birch or rustic logs, or driftwood, or crystals. Flames may be changed from yellow to orange to blue, or any combination of the three.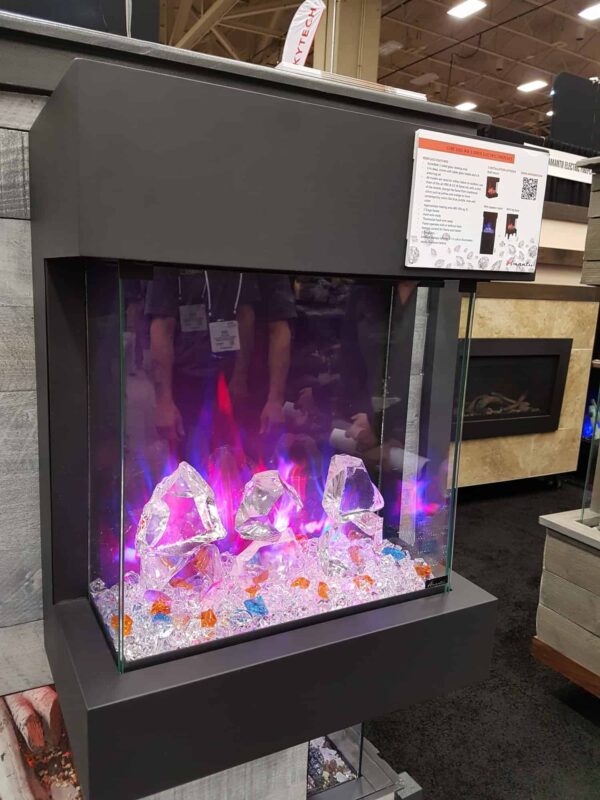 Napoleon has introduced a linear fireplace option with glass on three sides, called the TriVista. It will come in both 50-inch and 60-inch widths. It may be installed with glass exposed on both ends, or only on one end, for corner applications. Like their other linear fireplaces, the TriVista features flames that change from yellow to orange to blue, or a combination of all three.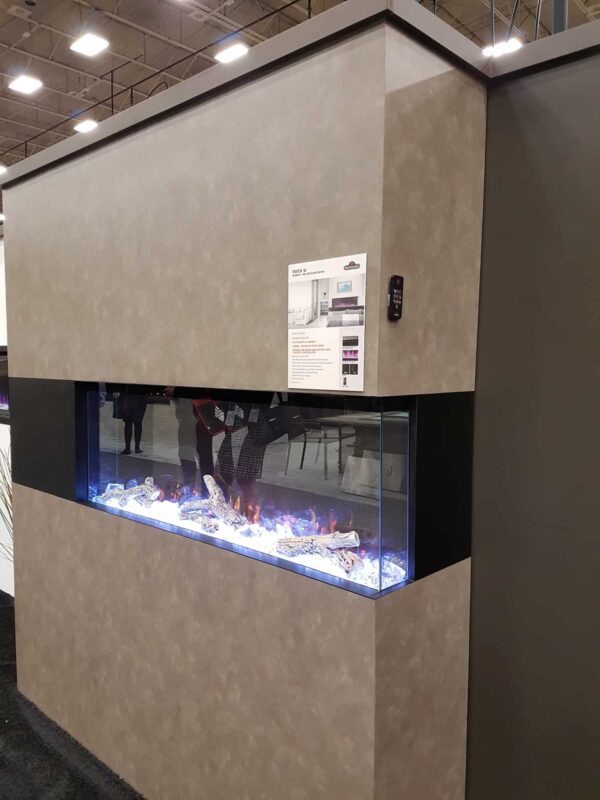 The Napoleon Clearion, the only two-sided see-through wallmount electric fireplace, has received an award-winning update in the Clearion Elite. Winner of the Vesta Award for electric fireplaces at the HPB Expo, the best new feature on the Elite will be the privacy option. At the touch of a button, the see-through screen will become opaque, providing privacy on both sides of the fireplace, as needed.
Not to be outdone, Dimplex has added the e-Matrix to their collection of fireplaces with mist-based flames. The boxy e-Matrix unit can be open on three sides, or closed on one end to create a corner solution.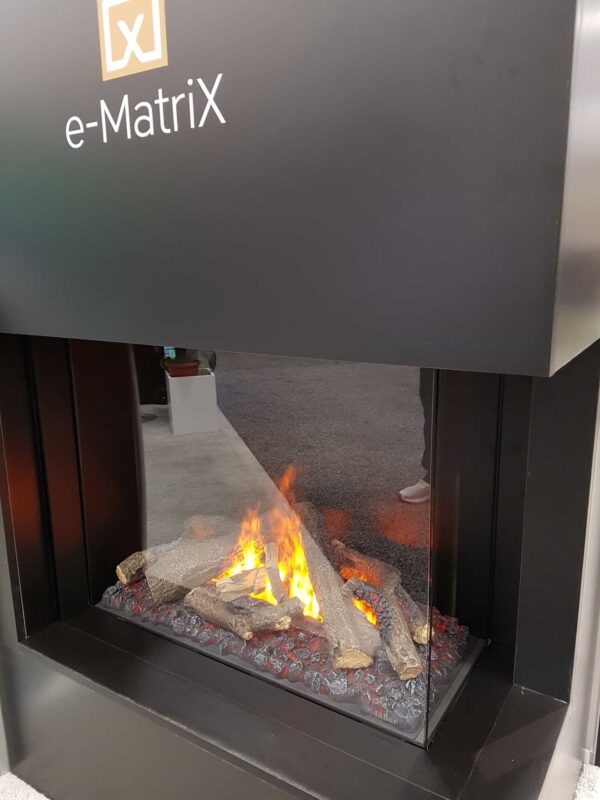 The best electric fireplaces of 2019 are multi-functional
Perhaps in response to the decrease in average home size, or the increase in condo development in urban areas, several manufacturers are offering interesting, multi-functional electric fireplaces.
Amantii's Cube, mentioned above, is especially versatile. It may be wall-mounted, or set up on either a speaker base, or a base with legs that gives the impression of a modern woodstove.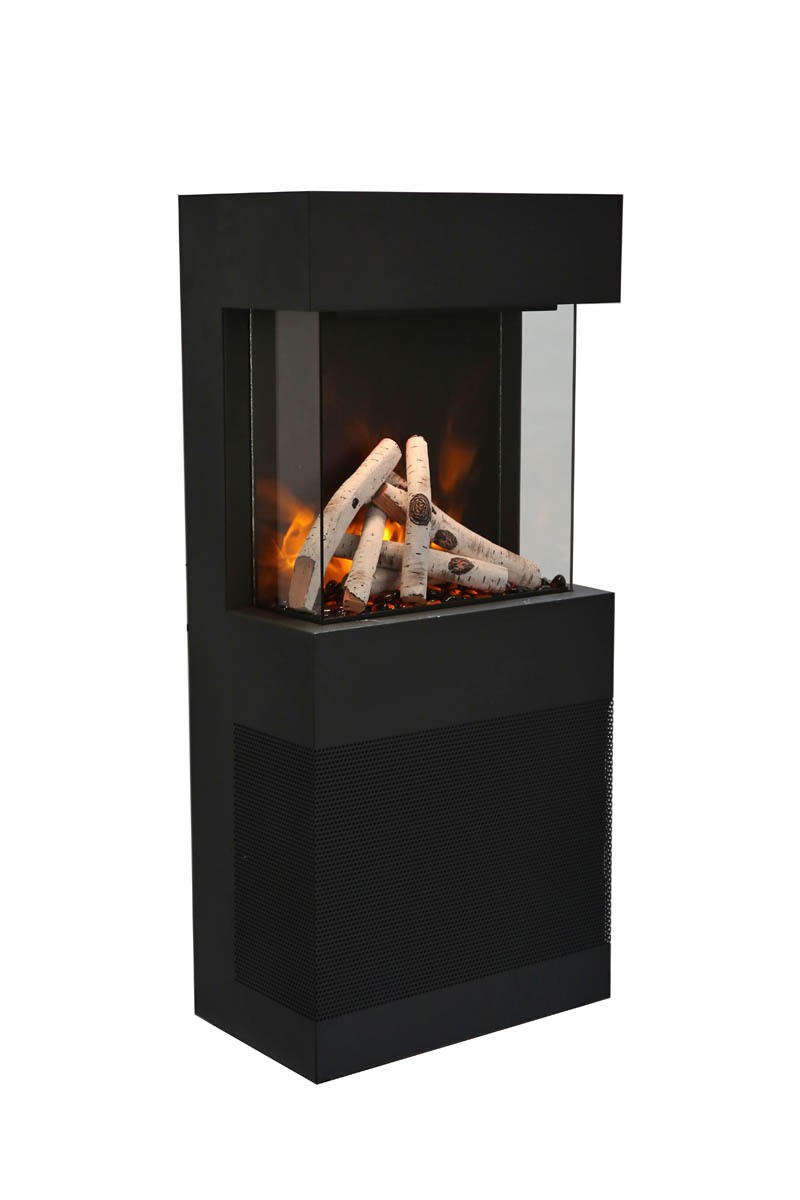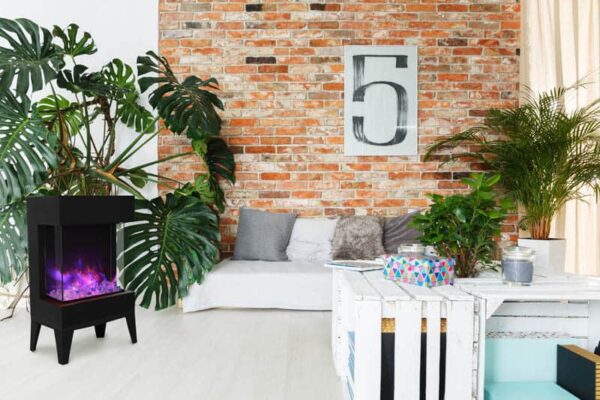 Napoleon unveiled the Stylus wall-mount, with a striking black and white asymmetrical frame that includes a display shelf next to the fire. The shelf is lit with an accent light, and includes a dual USB charging port that changes from red to green as devices reach full charge. The open firebox is enhanced with both clear crystals and birch logs. Flames change from yellow to orange to blue. This is the ideal piece for situations where construction isn't an option.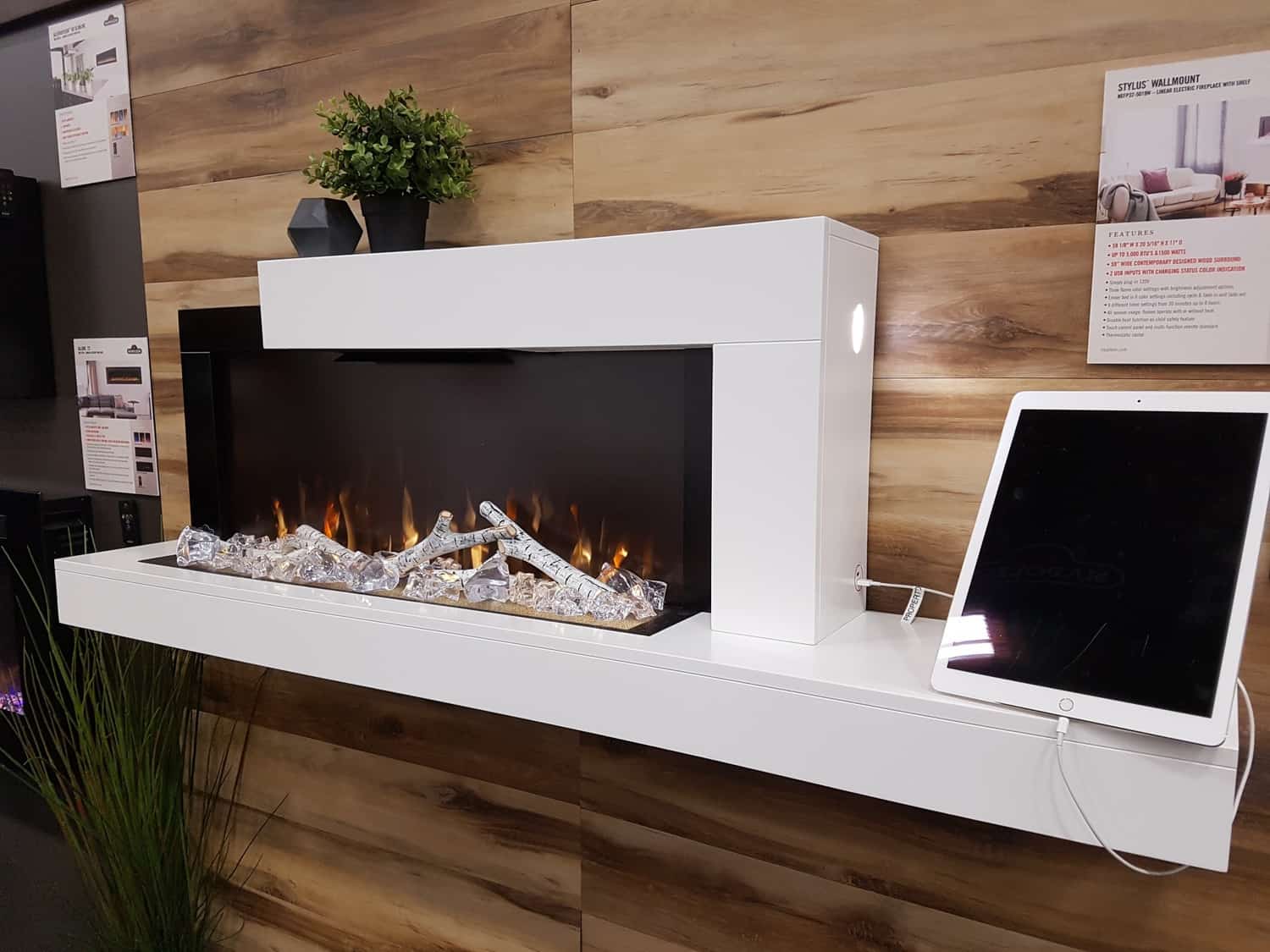 The best electric fireplaces of 2019 are outdoors
At both The New American Home and The New American Remodel, there were multiple fireplaces, indoors and out. There's no question that outdoor living was very much a part of both house designs.
For an electric outdoor fireplace, Amantii is currently the only manufacturer providing options, but they have many. Their Built-In series (Slim, Deep, and XtraTall) and TruViewXL series are all indoor/outdoor rated. Likewise, their new Symmetry and Symmetry B series are indoor/outdoor. Clearly, they understand that the lines between indoor and outdoor rooms are blurring, even in areas that have cold winters.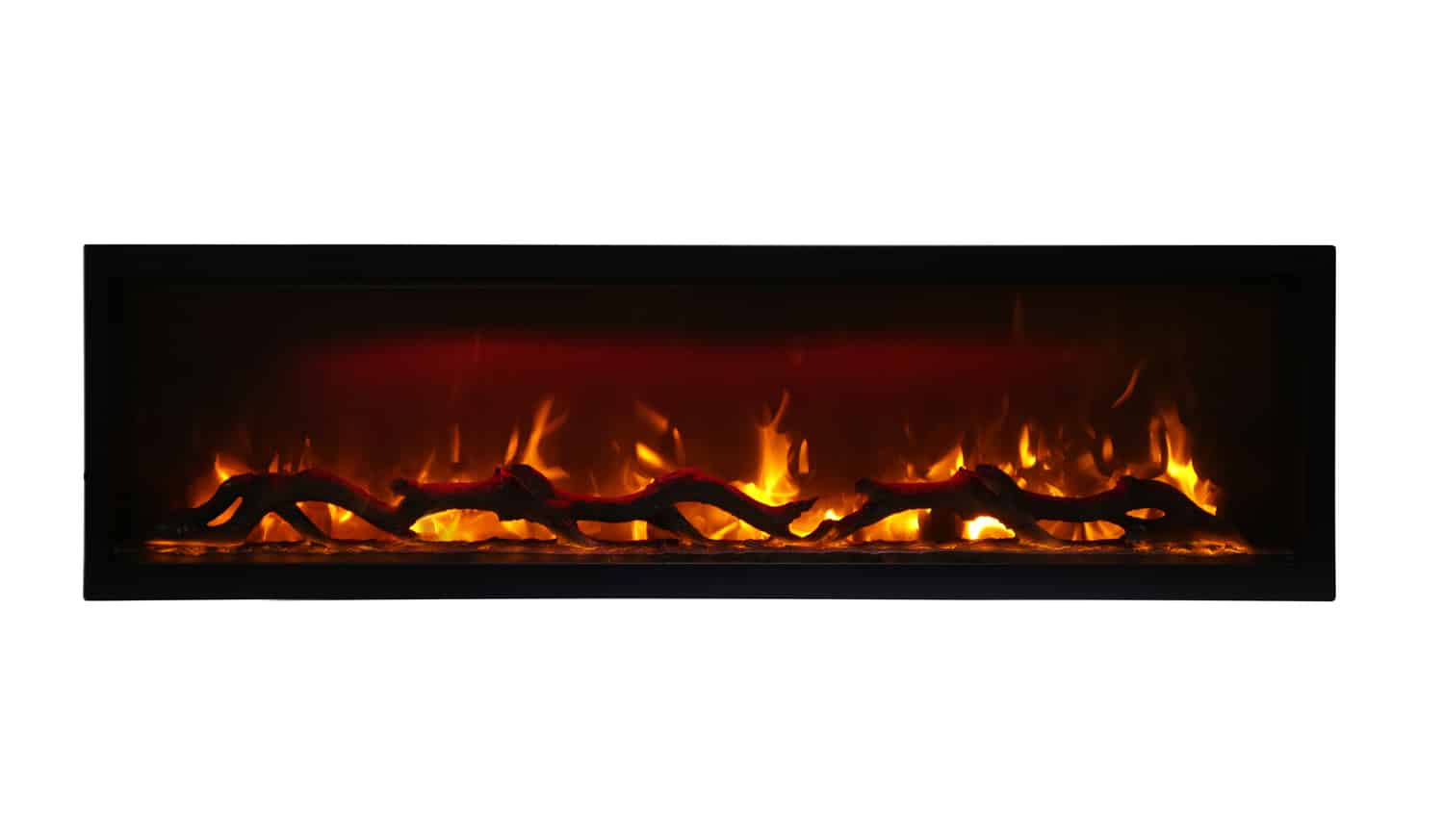 The best reason for having an electric fireplace outdoors is the same as for having one indoors: the flames work independently of the heater, so you have heat when you need it and flames without heat when it's too hot for a heater. Because you can also change the colour of the flames, electric outdoor fireplaces may be set to cool blues when outdoor temperatures rise.
Stylish Fireplaces & Interiors specializes in electric fireplaces and custom designs. They are NFI Certified Hearth Design Specialists. Their Toronto-area showroom features over 50 working fireplaces, with all of the finishing materials and fireplace accessories needed to complete a project. Their expert staff have the technical expertise and design experience to advise clients on their fireplace projects.