Do you have a space that lacks architectural interest? Would you like to add a fireplace to your room, but you're not sure how to get one that's not too traditional? The answer to both of these quandries may be to add a feature wall of stone or brick veneers. If you've visited a restaurant recently, chances are you've encountered brick or stone veneers in the most recently designed eateries. It's become a popular way to add patina and interest to a 'plain box' space.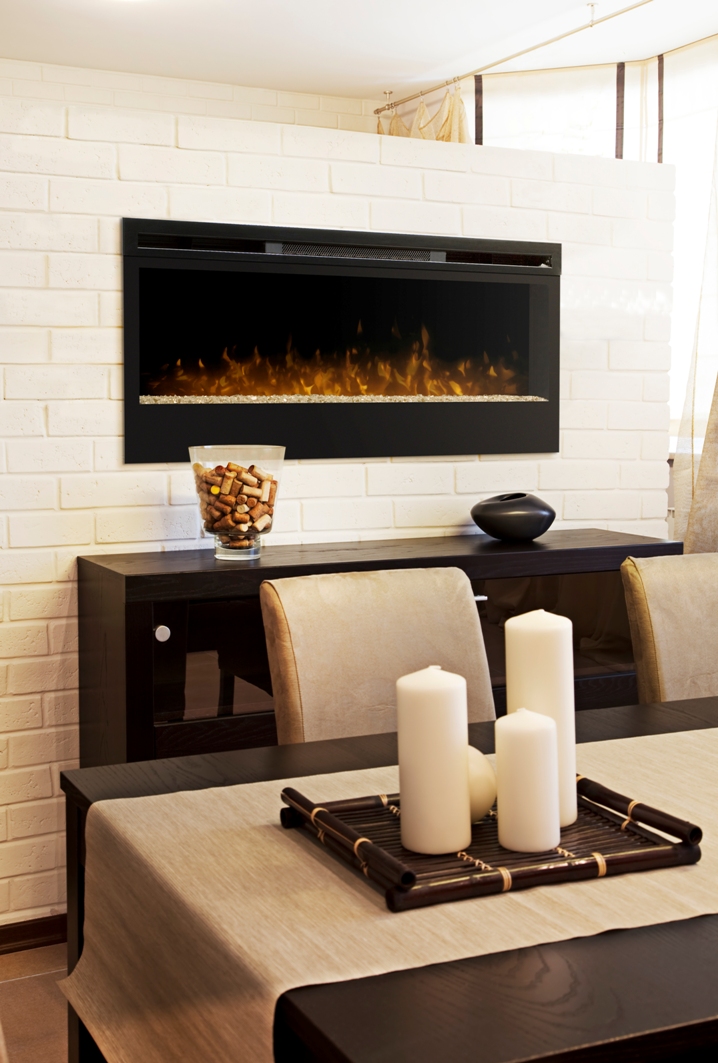 Stone and brick veneers are similar in their approach and installation, but there are some important differences. A stone veneer is real stone that has been sliced into thin segments and 'stacked' into slabs that are approximately 24" wide and 6" to 12" high. These slabs are applied to the wall with adhesive, much like tiles would be installed. When all the slabs are applied, the effect is one of randomly stacked stones. There are no visible seams between slabs and there is no grout or mortar required. If you wish to install a fireplace into such a wall, you would create the fireplace opening before covering the remainder of the wall in stone. If you prefer to mount a fireplace on the surface of the wall, then the stones would have to be left off of the portion of the wall that will hold the fireplace mounting plate.
Brick veneers are composed of thinly-cast man-made 'bricks' laid out in a traditional staggered pattern onto sheets sized approximately 30" wide by 18" high. These sheets are applied to the wall with tile adhesive, with the ends of each sheet interlocking with the adjacent sheet, for a truly seamless brick effect. Once the adhesive dries, mortar is applied to the gaps between the bricks, as roughly or as smoothly as you prefer, to achieve the look you like. As with stone veneers, if you wish to install a fireplace into the wall on which you are installing brick veneer, you need to cut the opening into the wall before proceeding with the installation of the brick. If you wish to mount a fireplace onto the wall, then you would do this after the mortar is dried.
Whether you choose brick or stone, both come in a wide range of sizes and colours. They create instant ambience and architectural interest wherever you use them, and are the perfect backdrop for many fireplace designs.
Stylish Fireplaces & Interiors sells and installs electric fireplaces, plus all the stone, brick and custom cabinetry to complete the project.