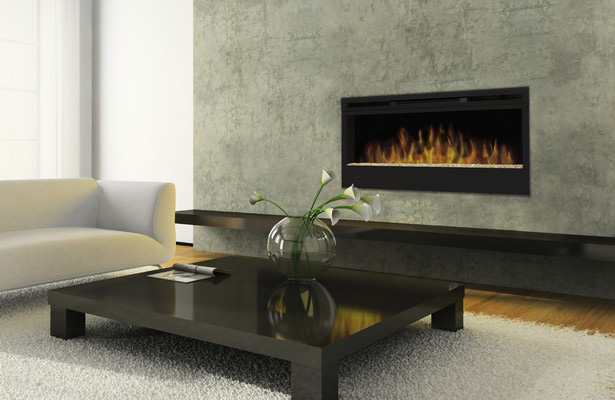 If you've never owned an electric fireplace, it seems impossible to believe that they can be more efficient and less expensive to run, than gas fireplaces.  After all, they run on electricity! For decades, we've been told that natural gas is an efficient way to heat our homes – better than electric heat or oil – and we've converted to high-efficiency natural gas furnaces to save on home heating costs.  How can natural gas NOT be the most efficient, and less costly, way to operate our fireplaces?  As obvious as it may sound, we must point out that furnaces and fireplaces work quite differently.  While both burn gas to create heat, your furnace does so far more efficiently than a gas fireplace.
Based on current Ontario rates for natural gas and electricity, it costs roughly $250 to $500 per year to run a gas fireplace, compared to $50 to $80 per year to operate an electric fireplace.  And, you will be able to run the electric fireplace all year, not just when it's very cold.  Here's a breakdown of the key drawbacks with gas fireplaces, when it comes to efficiency:
Gas fireplaces must be vented to the exterior of the home, and that means that some of the heat that's being generated is lost through the vent or chimney.  Compare that to an electric fireplace, in which there is no combustion.  It requires no venting, so all the heat stays in the room.
Gas fireplaces burn natural gas to create a flame, and because gas is burning, it creates heat whether you need it or not.  It's not possible to burn something without creating heat, and there's no way to have a gas flame without heat being produced.  In an electric fireplace, the heater is created separately from the flame, and may be turned on or off while the flame stays on. When an electric fireplace is running without the heater turned on, only lightbulbs are being powered; today, most of those bulbs are LED's, which use very little power.  This means that the cost of running the electric 'flame' is far less than burning natural gas to create a flame.
Gas fireplaces are too hot for effective zone heating, i.e. heating only the rooms you wish to be in.  In Spring and Fall, you can reduce the amount of time that you run the furnace, by running a fireplace in the mornings and evenings, providing heat only in those areas that you are using. Once the desired room temperature is reached the gas fireplace must be turned off to avoid over-heating.  If left running, a gas fireplace may also trigger the central heating system to turn itself off in the rest of the house.      Because the heater on an electric fireplace can cycle on and off to adjust to the room temperature, there's no need to produce (and pay for!) excess heat that you don't need, as you would with a gas fireplace.  When the heater on an electric fireplace shuts off, the flame keeps going; with gas fireplaces, the flame and the heater are interconnected, and they turn on and off at the same time.
Gas fireplaces in the latest wide linear designs burn far more gas than most homeowners need or want, limiting their practical use.  There are ways of drawing the heat away from the unit and venting it out the chimney to minimize the heat in the room without affecting the flame, in which case you are for enough gas to heat your entire home, just to have a nice flame.  With an electric fireplace, you can have a fireplace as wide as 144", and it will still only provide the amount of heat you want or need in the room.   The cost of burning gas to create a linear 'ribbon' of flame far exceeds the cost of the LED bulbs to create the same effect in an electric fireplace (fireplaces with LED bulbs cost less than a penny an hour to operate.)
In spite of talk of rising electricity rates, there is no rate in sight that will possibly make it more expensive to run an electric fireplace than a gas fireplace.   It's time to differentiate between heating our homes with gas (efficient!) and running our fireplaces with gas (inefficient!) and consider electric fireplaces for year-round ambiance.
Stylish Fireplaces knows that adding a fireplace to your home can be challenging. With an electric fireplace and their NFI Certified Hearth Design Specialists, it's easy to create a space you'll love to share with family and friends. Check out all the options and connect with their experts for help to find the perfect electric fireplace for you. You'll live stylishly ever after.