When it comes to designing a cottage-style fireplace, we can quote Charles Eames: "The details are not the details. They make the design." What we put around the fireplace is as important as the fireplace itself. In fact, the wallcoverings and accessories may be even more important than the fireplace. 'Cottage' means different things to different people. It can be a seaside saltbox, a mountain chalet, a mid-century bungalow on the water, or a rustic log cabin. Each description conjures a different image in our minds, and it's the design details that change.
Below, we share 5 vignettes from our showroom, featuring electric fireplaces in various cottage-style settings. You'll learn the design details that surround each fire, as well as which fireplace we've used to set the scene. Whether you are adding an electric fireplace to your getaway spot, or trying to recreate a little cottage retreat at home, we've got tips to help you make it happen.
Rustic Cottage-Style Electric Fireplace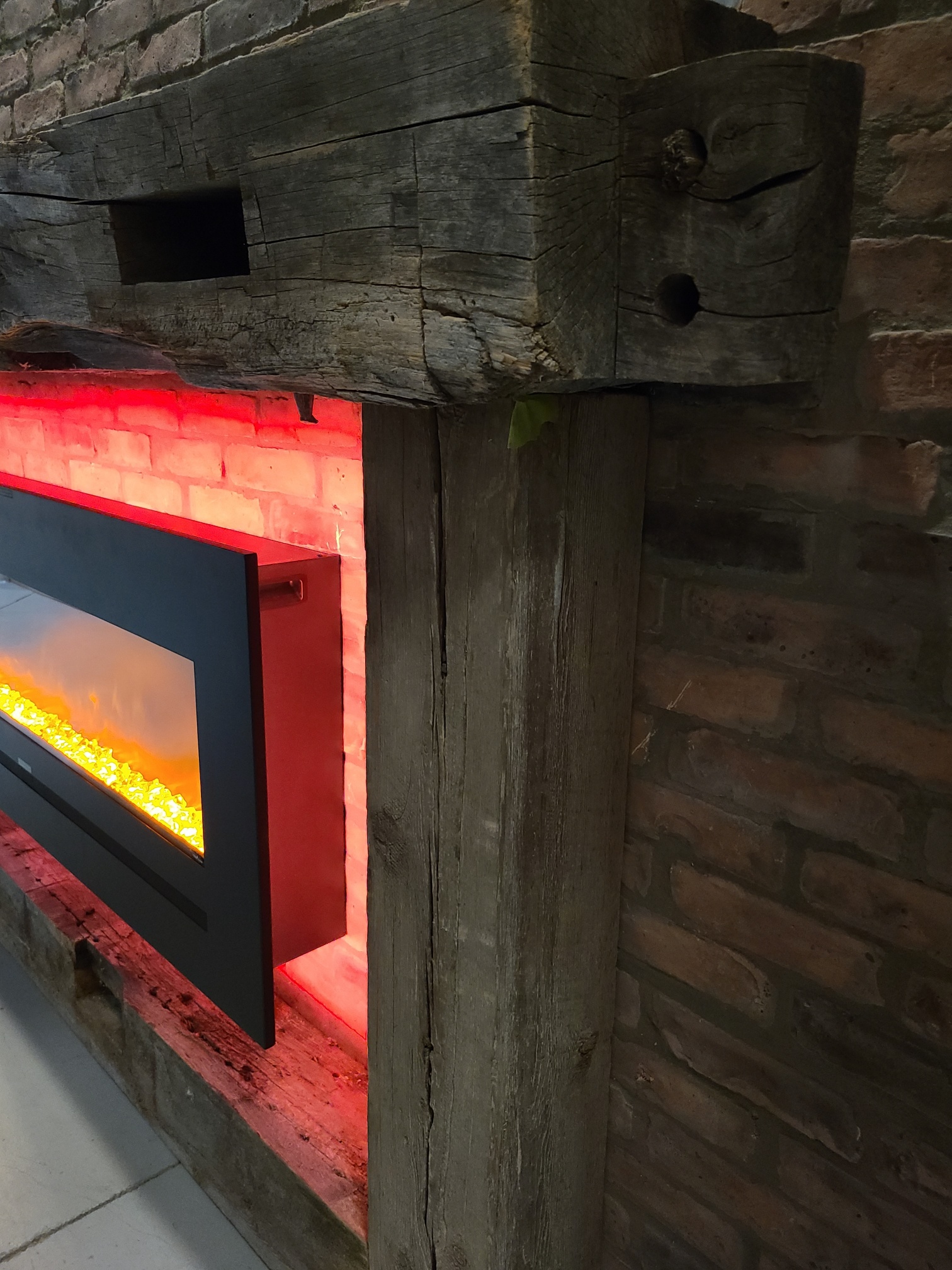 This rustic design started with a quartet of hefty reclaimed beams from our favourite architectural salvage shop. After deciding on the fireplace size, we cut the supporting beams to create a framework below the larger top beam. All of the beams are anchored to the wall for stability and safety. We've used a Century Architexture brick veneer wall as a backdrop, for suitable texture, and a relatively smooth surface on which to mount everything.
Our fireplace is the Amantii WM-FML-48-5523, which has been discontinued. You can achieve a similar look with any wall-mounted fireplace, such as the WM-FM-48-5823-BG. The backlighting around the perimeter of the fireplace casts a colourful glow on the beams, further highlighting their ruggedness. We also like how the contemporary fireplace contrasts with the rustic setting, for a new twist on cottage-style design.
Coastal Cottage-Style Electric Fireplace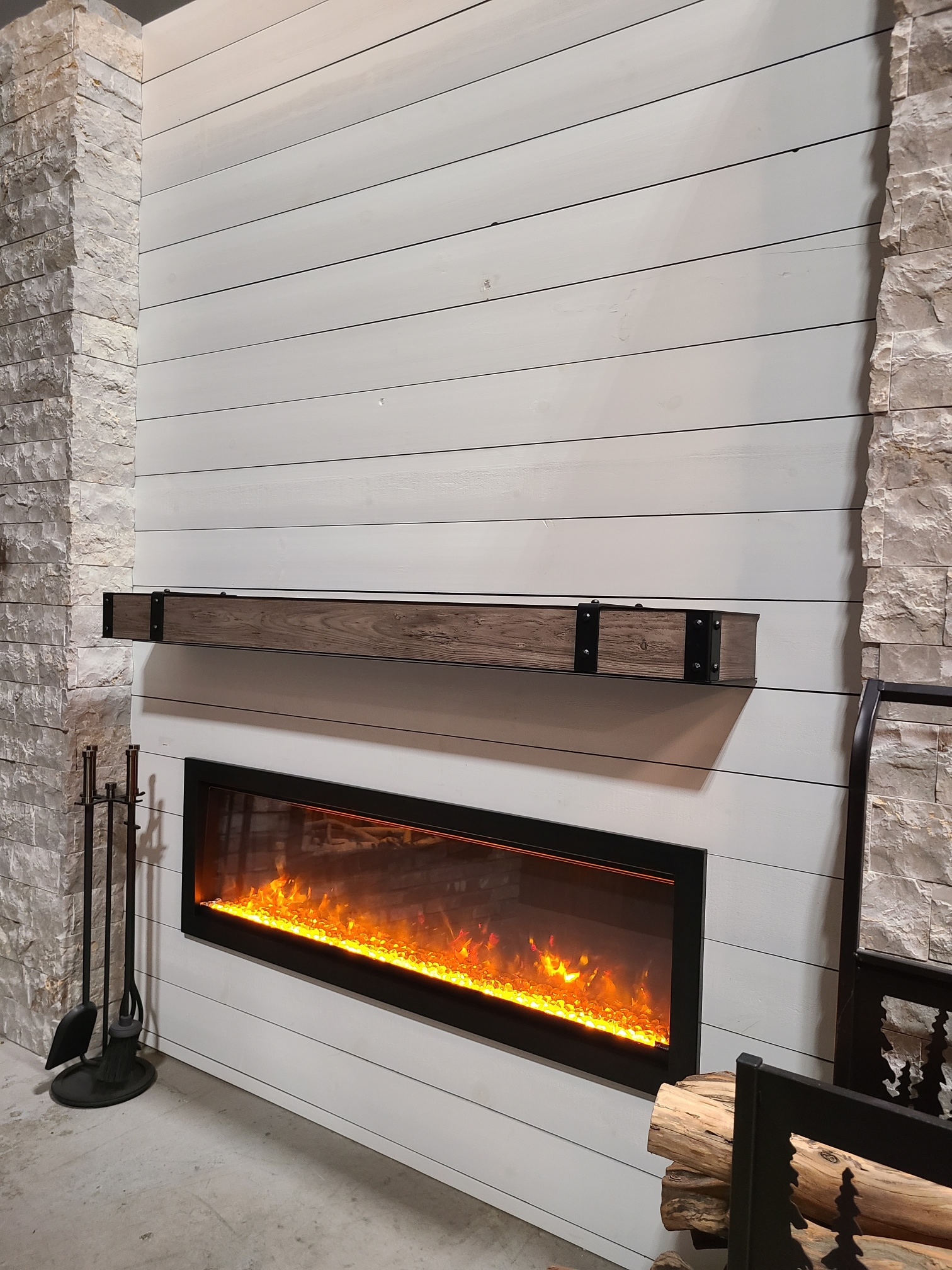 Our coastal cottage-style wall starting with the white wood planks, installed ship-lap style. Ours are the Montauk Vintage wood planks, which are 8-feet long. They are installed tongue-in-groove, and are specifically designed for walls using Canadian softwood lumber. We've flanked our wood planks with columns dressed in modern-rugged Splitface Fossil stone from Erthcoverings. Above the fireplace, we added a Stoll Transitional mantel shelf. It combines black iron top and bottom with a wood face, and adds another unfussy traditional element. Finally, we've added real fireplace tools from Stoll, and a log holder flush with real wood, for added authenticity.
The fire in our coastal cottage-style wall is the Amantii Symmetry SYM-50 linear electric fireplace. It's bold black picture frame surround nicely complements the black metal of the mantel beam and fireplace tools. We've set ours up with the clear crystals, but you can also use the included birch logs if those suit your design better. Don't forget to stock the wood rack with birch if you're going to have birch logs inside the fireplace!
Chalet Cottage-Style Electric Fireplace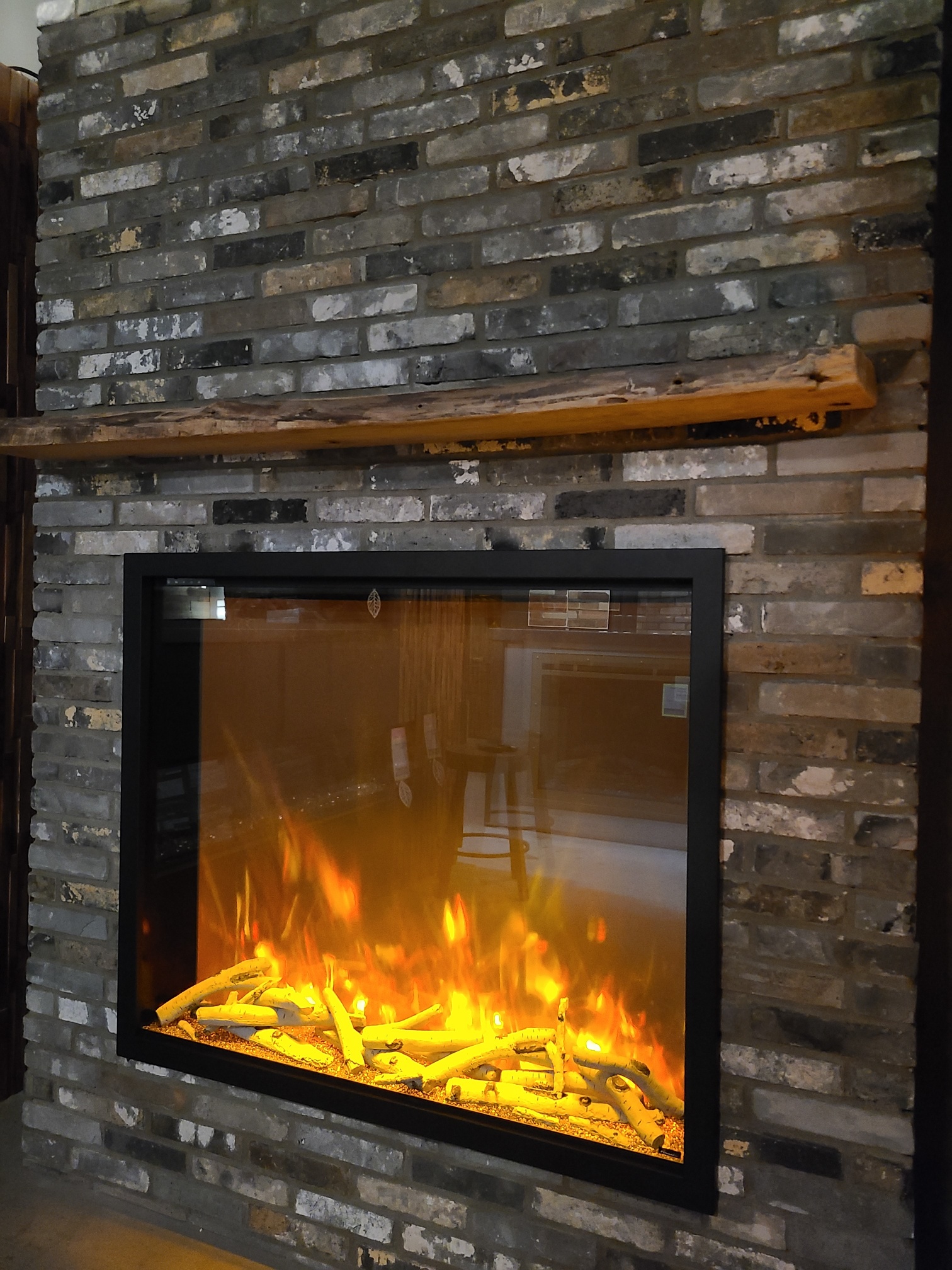 To create the feeling of a woodsy chalet in the mountains (or your favourite resort), we worked with St.Charles reclaimed clay brick from Impex. We added a simple live-edge reclaimed mantel ledge above the fire. Note the height of the mantel – big old lodge fireplaces would have more height than we typically think of in our suburban or city fireplaces.
Our preferred fireplace for chalet-style is the 'go big or go home' Amantii TRD-48, the largest of their traditional series inserts, and the largest electric insert currently available. The flames are designed to fill the larger space inside the firebox. We've used the included birch log kit, but the fireplace is deep enough to hold other, larger logs as well.
Mid-century Modern Cottage-Style Electric Fireplace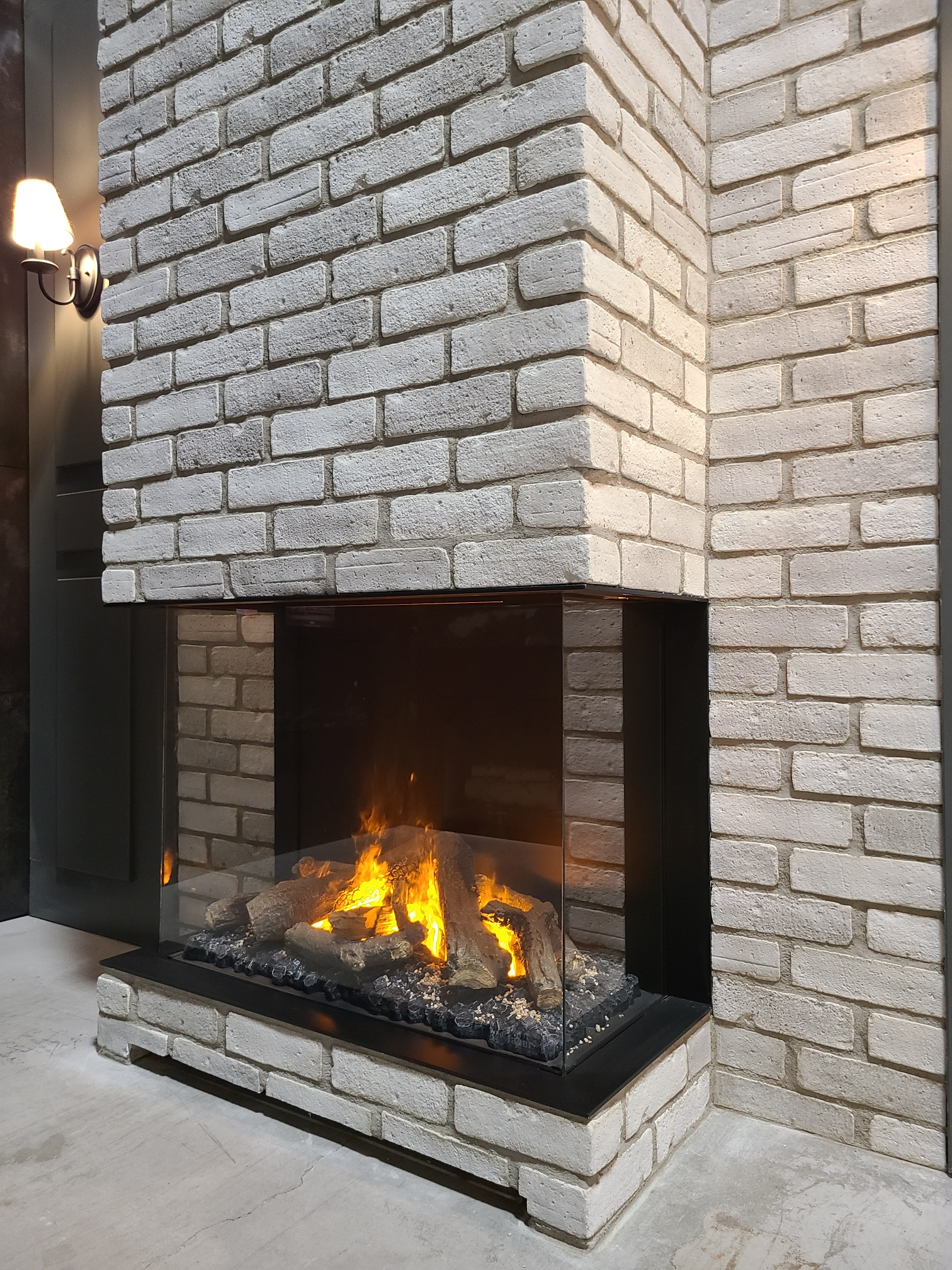 This mid-century style fireplace is centered on the Faber e-Matrix 3-sided electric fireplace. E-matrix uses water to create flames out of mist. The logs and firebox are taken from their line of gas fires, so they are of a very high quality. This is as close as you can get to a real fire, with an electric fireplace. Its traditional shape lends itself to our cottage-style theme, while the whitish Niagara brick veneer from Century Architexture gives a clean finish. You could also use a stone veneer, in a plank style, to get mid-century style with this design.
Farmhouse Cottage-Style Electric Fireplace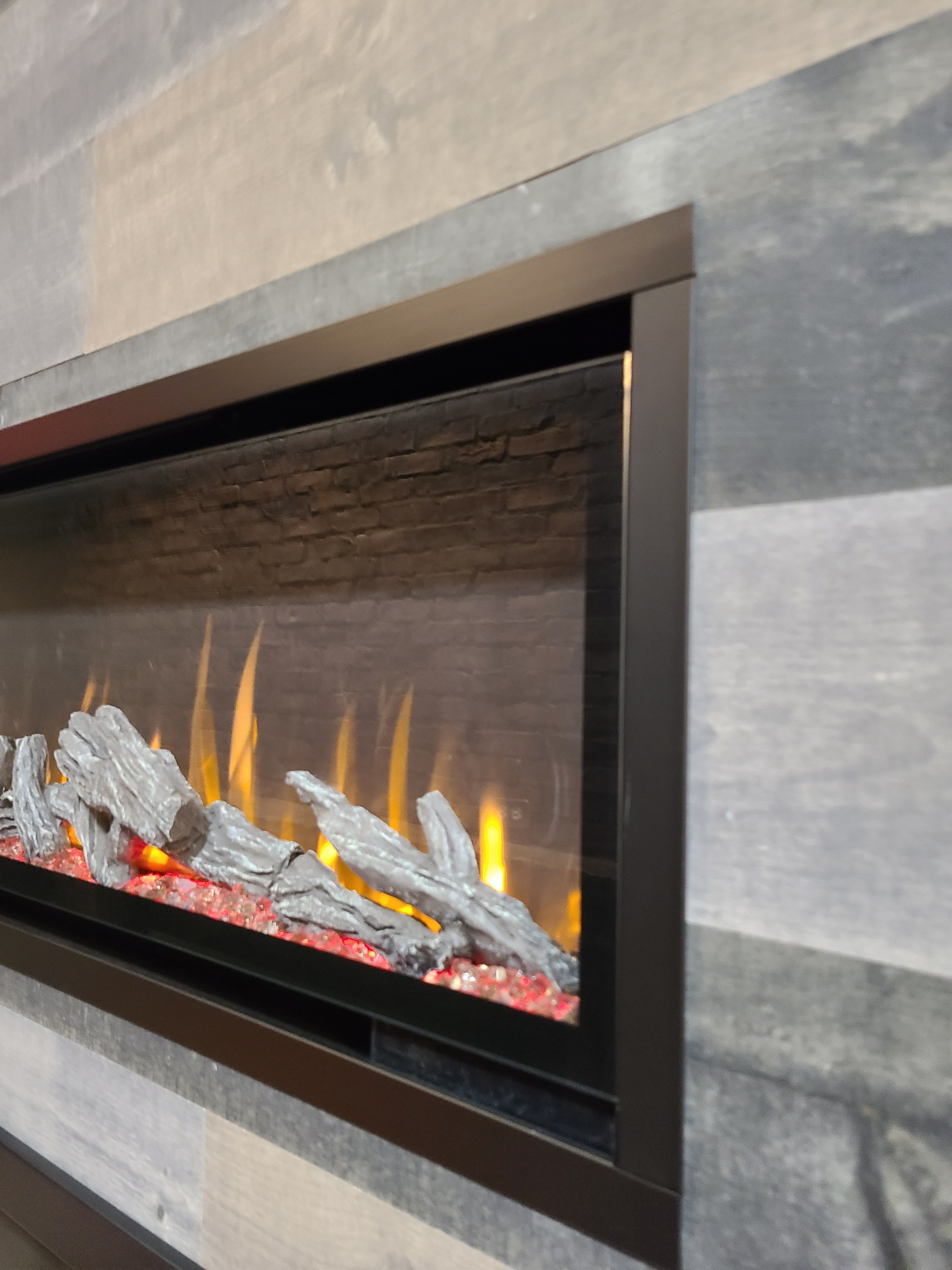 When we think of farmhouse style, we think of barnboard. Unfortunately, real barnboard can be tricky to install and is getting pricey as demand goes up. Our 'barnboard' wall is actually created from wood wall planks that have been specially designed for wall coverings. They are made of Canadian softwood lumber and this particular style, called Urban Décor, is finished in various shades of gray. They are super-easy to install and fit together with tongue-and-groove edges. We chose planks that are all the same thickness, to make it easier to put our fireplaces flush with the wall. Some planks come in varied thicknesses, so there may be gaps around the fireplace if thicker planks are mixed with thinner ones.
The fireplace in this image is the Napoleon NEFL60CHD Alluravision Deep 60-inch, with the included logs. We've set the multi-coloured flames to a natural yellow-orange combination, and have turned off the overhead accent lighting.
So there you have it – 5 suggestions for cottage-style electric fireplace designs. We think you can mix and match some of our design ideas, to create your own unique vision. Happy cottaging!
Stylish Fireplaces knows that adding a fireplace to your home can be challenging. With an electric fireplace and their NFI Certified Hearth Design Specialists, it's easy to create a space you'll love to share with family and friends. Check out all the options and connect with their experts for help to find the perfect electric fireplace for you. You'll live stylishly ever after.