Last month, I shared my basement bathroom makeover with you. It was the first of two bathrooms to be renovated last Fall, with the second one being our main floor bathroom.
As I mentioned in previously, there were features that I was sure I wanted upstairs, before I completed the basement bathroom. Once the basement bathroom was finished, I realized that some of the same features would not work upstairs. The glass shower door was one such feature. The other was under-floor heating. We like the heated tiles in the basement, but decided they wouldn't make enough of a difference upstairs, so we went without. We haven't regretted either of these decisions.
The upstairs bathroom became a combination of high and low budget items. Although I'd like to say that I had a master plan in mind before we began the demolition, I will admit that I only had this room partially composed before the work began. The 'retro' style sort of evolved unintentionally.  The tiles came first, including the accent wall. Then came the vanity design. When I saw all the elements together, I realized that my vintage fabric would be the perfect finishing touch.
This is not a trendy bathroom, like the basement one. It's a blending of a bunch of elements that I like, and it's extremely practical. It's also a work in progress. Hubby doesn't know it yet, but that art is just temporary!
Before
This bathroom was a mish-mash of original items plus inexpensive updates that did nothing to enhance the style of the space. I hated having the garbage and laundry bins on display. This room also functions as the powder room for guests, as there is no other bathroom on the main floor.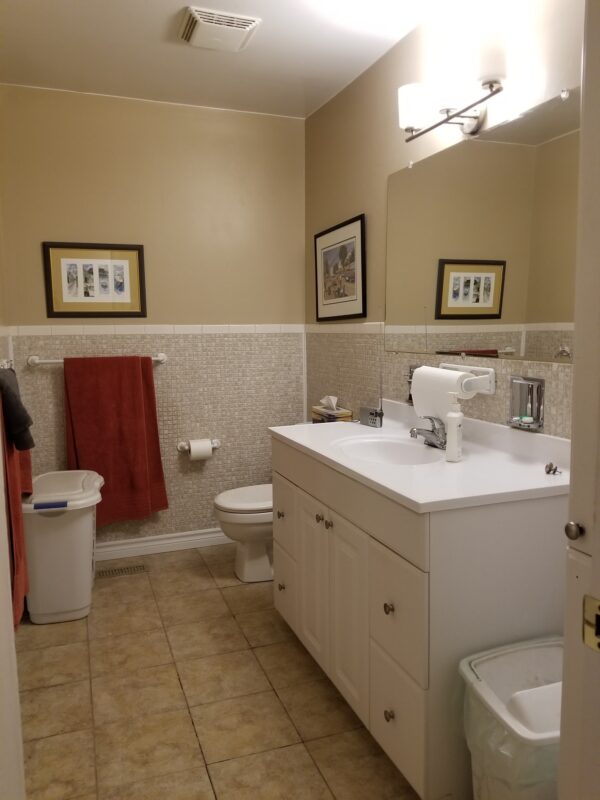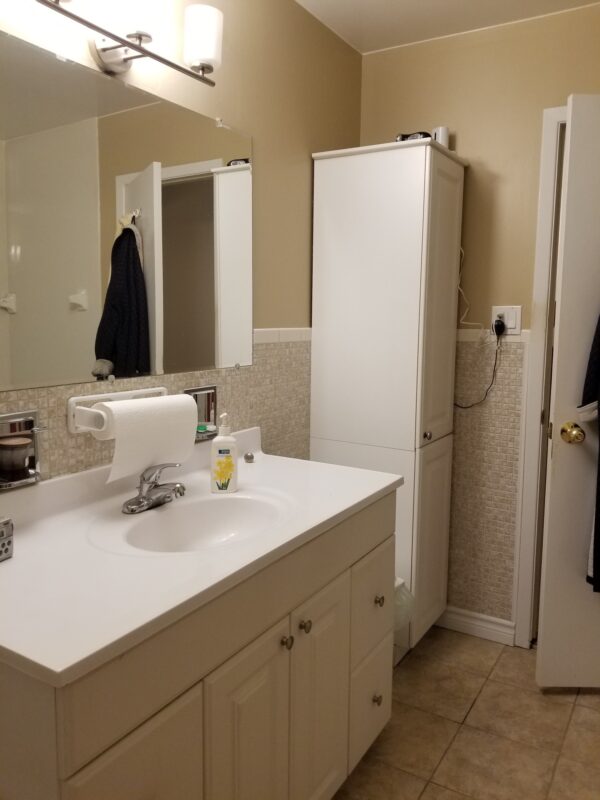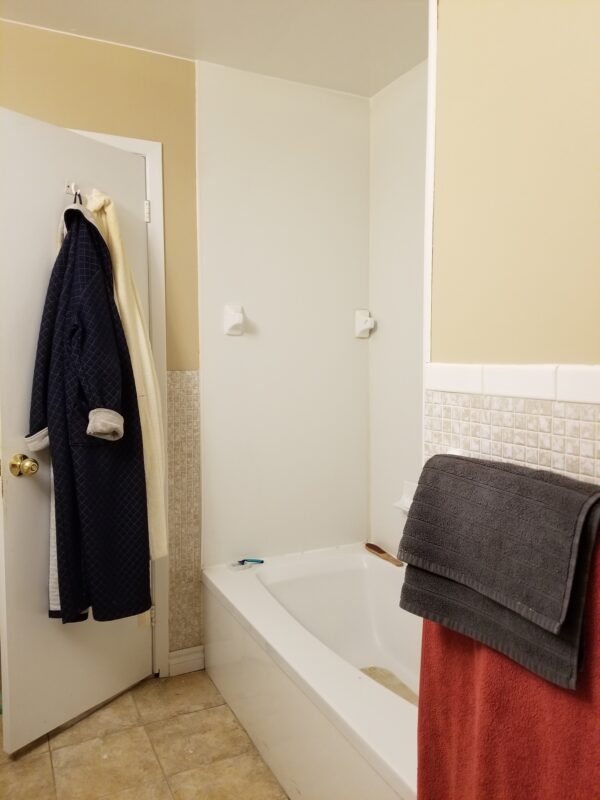 During
There was nothing worth saving in the old bathroom. The plan was to create a new vanity with all the storage we would need, including a space for garbage and laundry bins. All new plumbing fixtures were a must. Better lighting and more 'pretty' were also badly needed.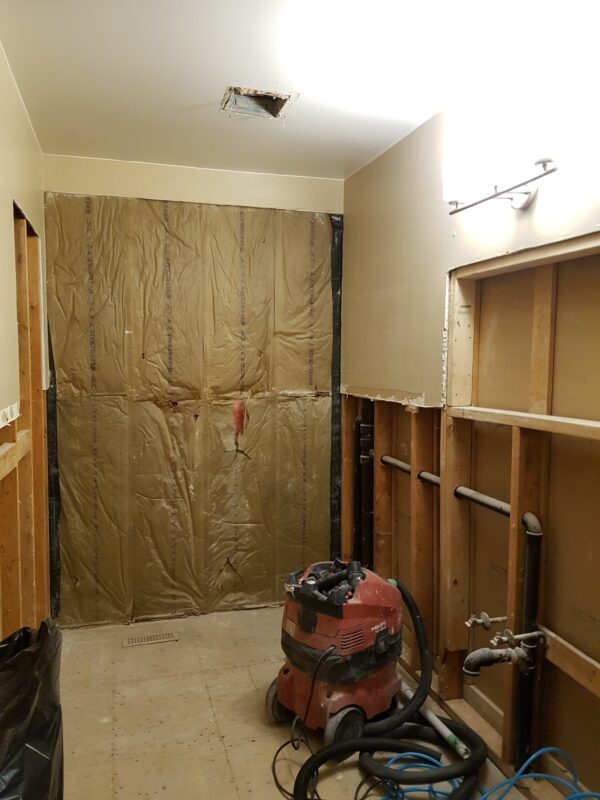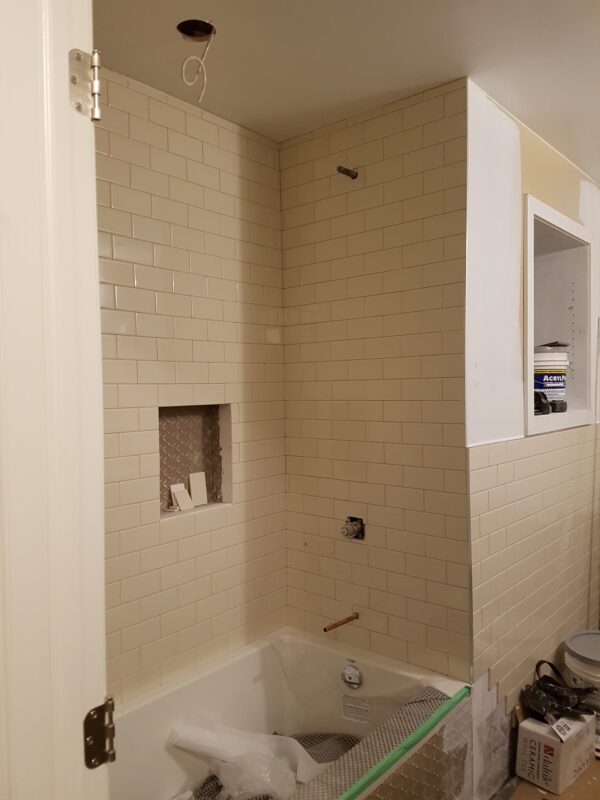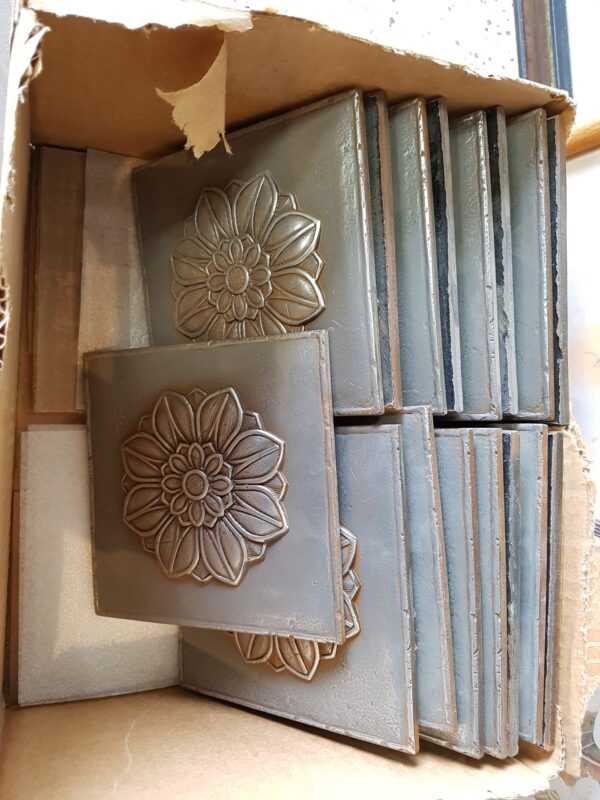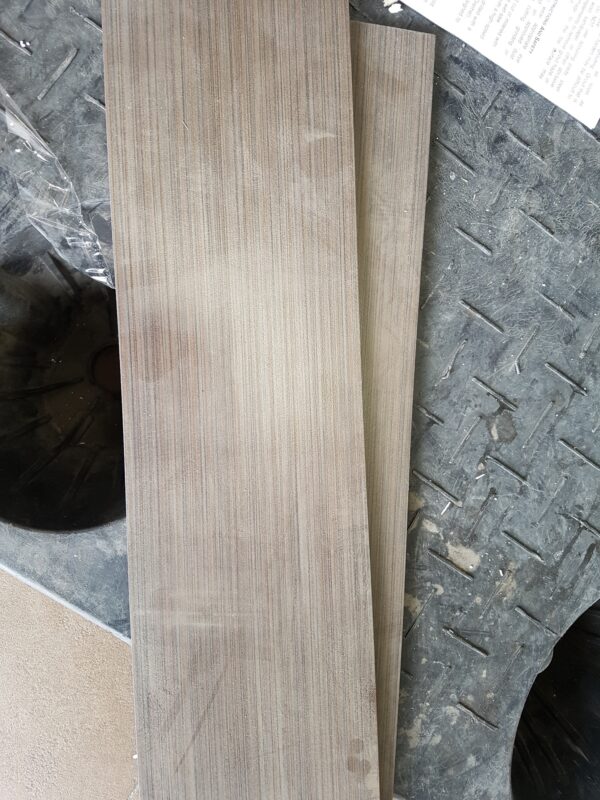 After
For continuity with the rest of our main floor, we chose a weathered gray finish on white oak for our vanity. This ties in nicely with our hardwood floors outside this room. Note that storage in this vanity is almost all drawers. The only cupboard doors are below the sink. Although there is only one sink, there are two mirrors and plenty of space for two people to primp and preen. Installing two tall mirrors actually made the room feel much taller and larger.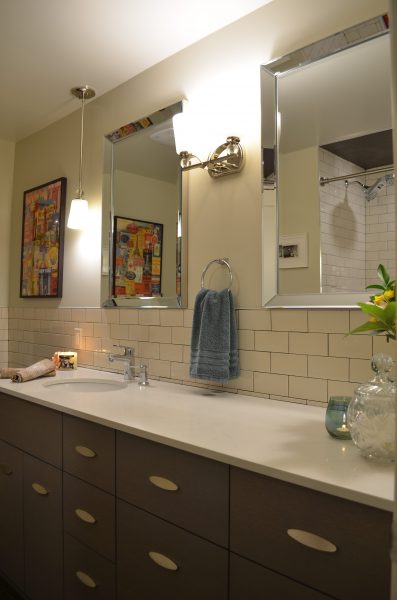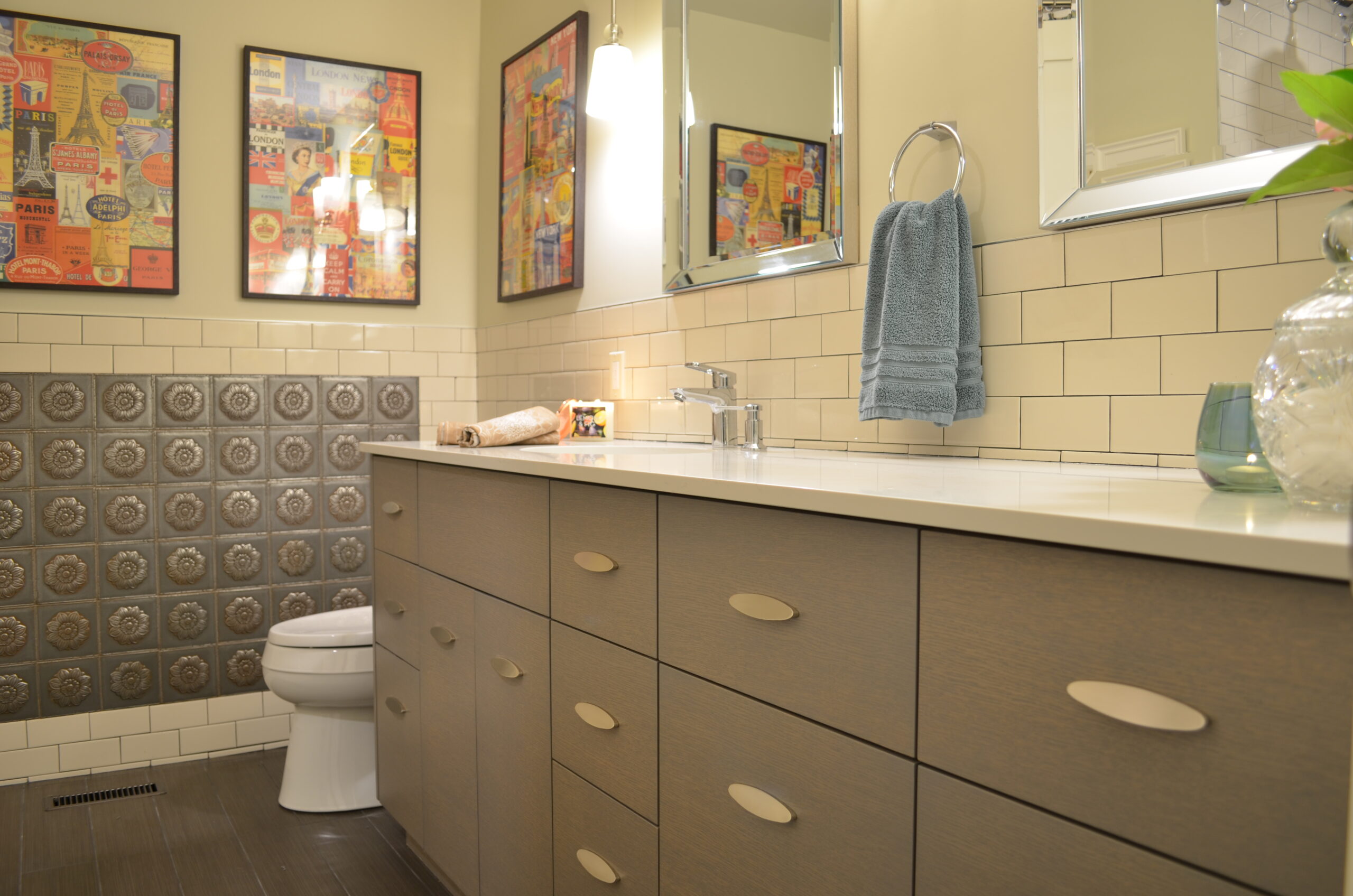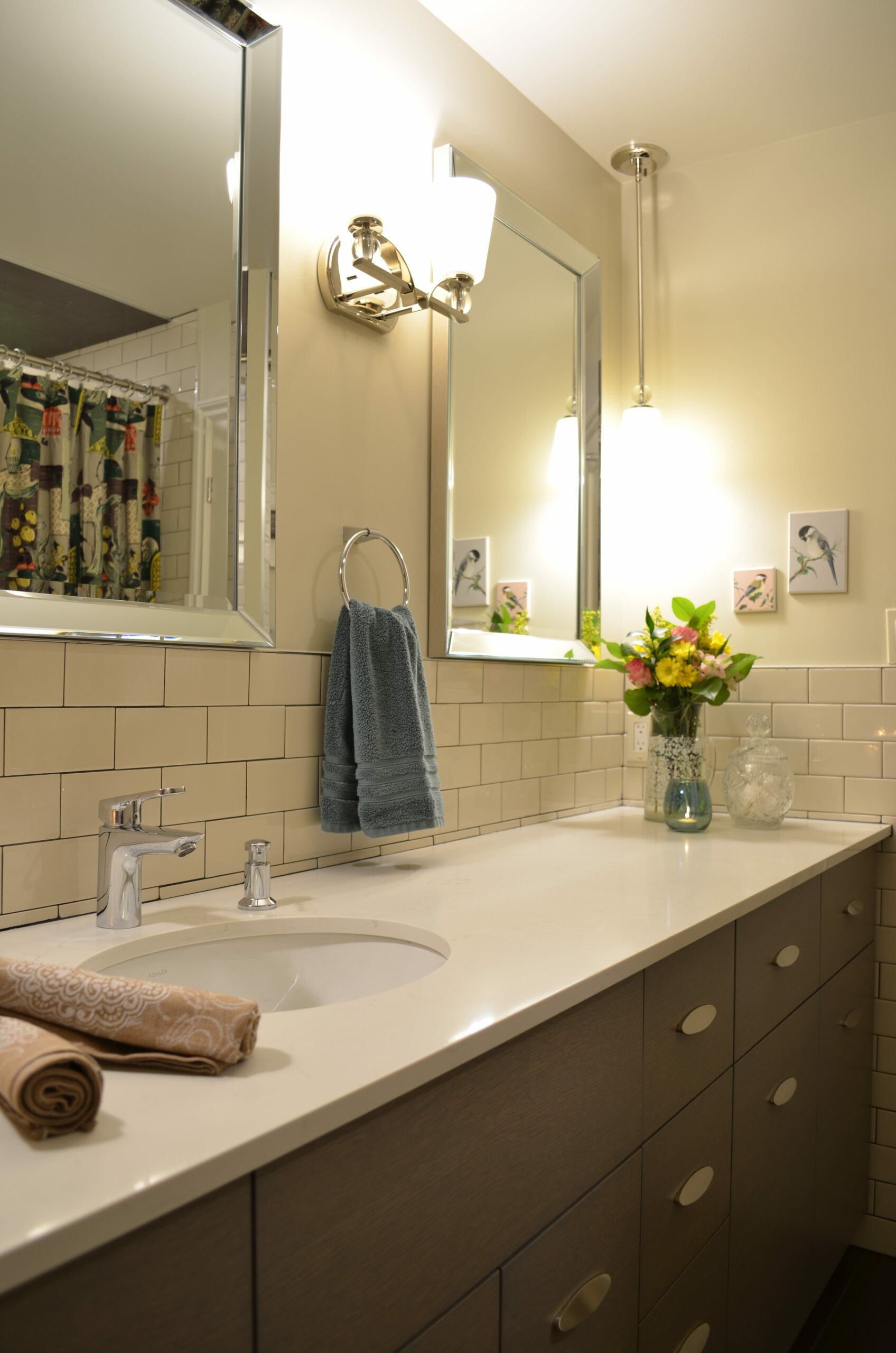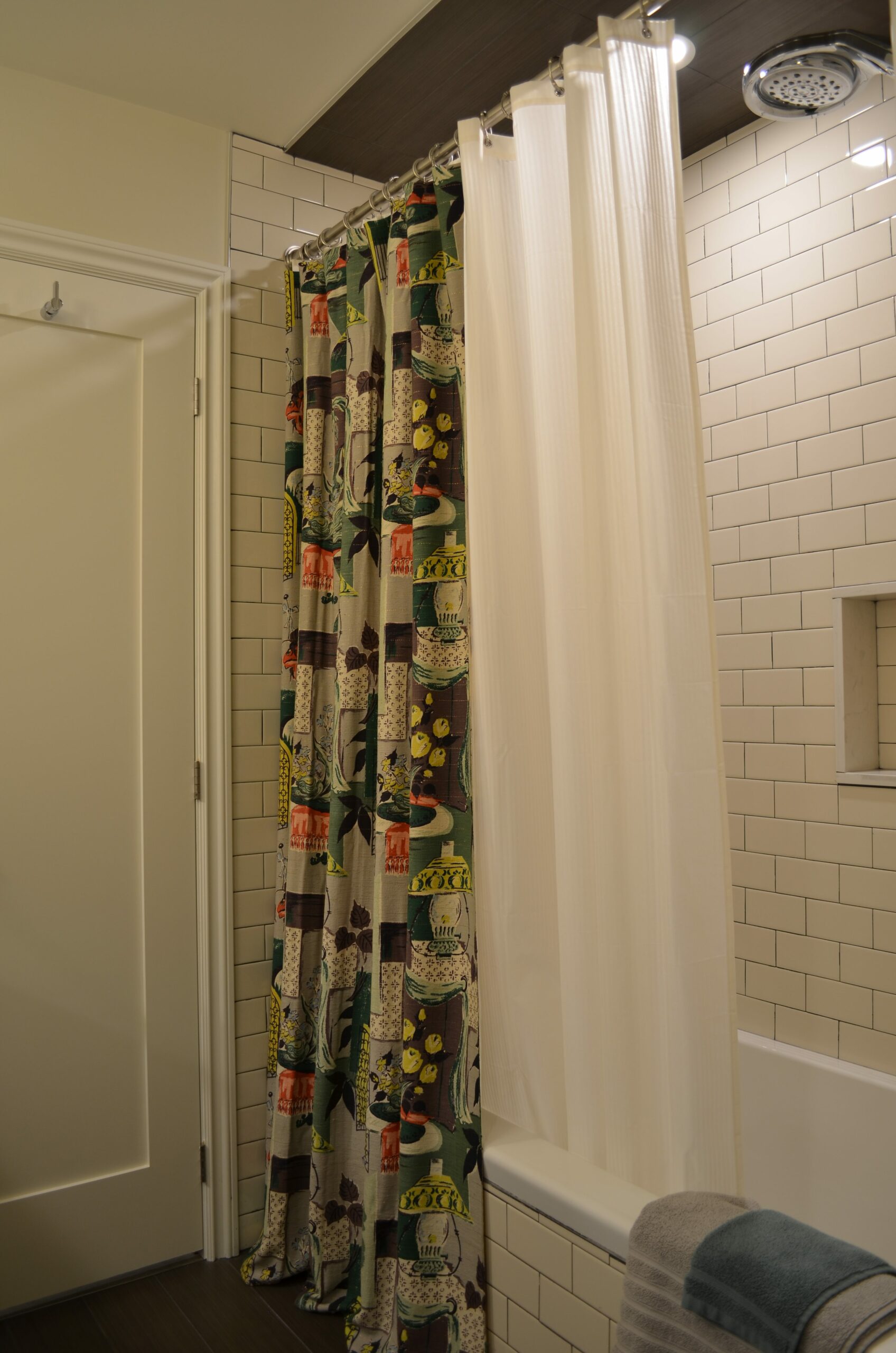 We love our new bathroom, and the fact that it functions both as a day-to-day family bathroom and a powder room for guests. All the messy stuff, like garbage and laundry, are tucked out of sight, and the lack of clutter is very calming. The vintage fabric around the tub adds an elegant drapery element, even though there is no window. I had that fabric stored away for years, ever since I spotted it at an art fair. Once I saw how the room was coming together I pulled it out of storage, et voila! It makes me smile every time I walk in the room.
Jeanne Grier is an award-winning interior decorator and owner of Stylish Fireplaces & Interiors. With over 25 years' experience in the Toronto area, she has completed hundreds of makeovers. Her expertise extends to fireplaces, and she is an NFI Certified Hearth Design Specialist. She and her husband Colin operate a retail showroom in the Toronto area, featuring over 50 electric fireplaces, as well as wall coverings and fireplace accessories.