Have you been contemplating a corner electric fireplace? Electric fireplaces are extremely versatile, as they are zero-clearance and may be installed anywhere that you can connect to a 120 volt electrical line. However, there are special installation considerations that are unique to corner electric fireplaces. Here are our top tips for anyone who is thinking about a corner electric fireplace.
Are there electric fireplaces that fit into a corner installation?
At one time, there were several electric fireplaces that were specifically designed for corner installations. Corner electric fireplaces were mostly ready-to-assemble cabinets with tops that were made to fit into a 90-degree corner. Occasionally, the cabinet came with a regular straight top and had a triangular piece that could be attached if the cabinet was being used in a corner. As ready-to-assemble cabinet fireplaces have become less popular, corner electric fireplace cabinets have also gone away. Fortunately, a good cabinet shop can create a custom corner cabinet around any electric fireplace you like.
For the custom corner electric fireplace shown here, the clients had a photo of a fireplace they saw online. They asked that it be reproduced to better fit their space, and to hold their TV. They also wanted to build around the electric fireplace insert of their choosing. The advantage of having a corner electric fireplace made to order is getting exactly what you want.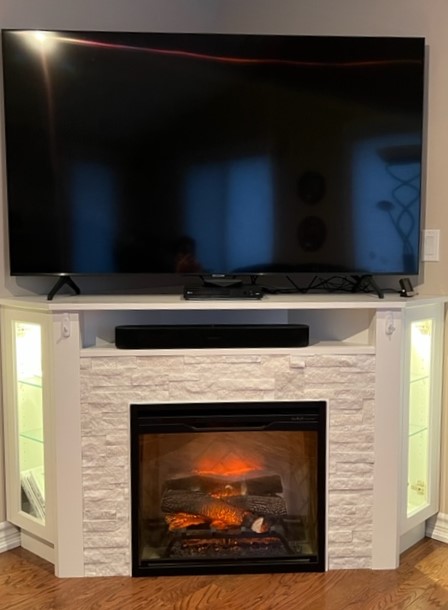 When is a corner electric fireplace a good idea?
If you already have a corner fireplace, either wood-burning or gas, it makes sense to retrofit an electric fireplace into that existing opening. Leaving the fireplace in the corner, and simply changing from a gas insert to an electric insert, or placing an electric insert into the wood-burning opening, is a low-cost, low-mess way to update the fireplace. This is especially true if your furniture arrangement works well around the corner fireplace.
If you don't have a fireplace, and you are looking for a spot to add one, a corner electric fireplace has the advantage of not cutting into the room too much. When you build a wall across a corner, you can create a wide wall while only taking up a little bit of wall on either side of the corner. As many corners are 'wasted space', this is a great way to add a fireplace feature. There is also a bit of depth behind the center of the angled wall across the corner, which may allow for a corner electric fireplace that's deeper than you may otherwise want to make space for.
How do I measure for a corner electric fireplace?
If you wish to add a cabinet to contain your corner electric fireplace, you will need to know how much wall space you have to the right and left of the corner. This is where the back of the cabinet will be, fitting into the right angle of the corner. In simple terms, a corner cabinet is a triangle, with one side holding the fireplace and the other 2 sides fitting into the corner. If there is an obstacle like a door or window near the corner, you will need to measure the distance from the corner to that obstacle. The measurements of these walls will determine how long the 2 'back' sides of the triangular cabinet will be (K & L in the diagram). Pro Tip: The 2 sides of the corner do not need to be equal. If you have more wall space on one side or the other, the cabinet can be deeper on that side. This will allow you to have a wider front, where the fireplace will be (J in the diagram).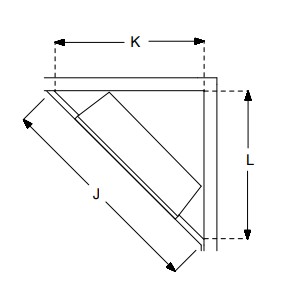 If you are building a wall across the corner, to create a space for a built-in fireplace, you also need to keep in mind the geometry of triangles. In order to accommodate the depth of the firebox (the part that goes into the wall), the face of your wall will have to be slightly wider than the width of the firebox. See the diagram; the back end of the firebox protrudes into the triangle, and needs to have enough depth so that it doesn't hit the sides of the triangle. For example, a 50-inch wide fireplace will need a wall wider than 50 inches; how much wider will depend on the depth of the fireplace you have in mind. Today, there are electric fireplaces as slim as 4-inches deep, making it easier than ever to create a corner electric fireplace.
Which fireplace models are best for corner electric fireplaces?
Whether you are building a new wall across a corner, or creating a cabinet to fit into a corner, the depth of the electric fireplace will be critical. Generally, the shallower the fireplace, the more flexibility you will have in choosing the size for your corner electric fireplace. The deeper your preferred electric fireplace model, smaller it will have to be in relation to the width of your feature wall. If you want to have maximum fireplace width for your feature wall, choose the slimmest electric fireplace you can find.
Stylish Fireplaces knows that adding a fireplace to your home can be challenging. With an electric fireplace and their NFI Certified Hearth Design Specialists, it's easy to create a space you'll love to share with family and friends. Check out all the options and connect with their experts for help to find the perfect electric fireplace for you. You'll live stylishly ever after.