Whether your home décor is a study in neutrals, or awash in colour, a white fireplace will work. Like that classic white shirt that can be dressed up or down, a white fireplace looks classic and clean in any space. A white fireplace will blend in with your neutral creams and grays, or it will provide a clean backdrop for bolder palettes. If your tastes change and you redecorate, chances are that a white fireplace will still work in your space.
When it comes to electric fireplaces, most fireboxes and their interiors are black. This makes the flames POP. However, it is possible to create a white surround, which is the design element that will bring attention to the fireplace. Below, we're highlighting our current picks for ready-made white fireplaces, as well as a custom white fireplace project from our archives. You can keep the white fireplace theme going with our suggestions for the interior media packages.
Contemporary White Fireplace: Cara & Cara Elite wallmount
Napoleon Cara and Cara Elite are wall-mounted electric fireplace cabinets with asymmetrical design and striking black contrast. They are identical in appearance. Cara Elite features WiFi connectivity, with a weather app that can show the current conditions on the rear glass. If wall-hanging is not an option, you can set the Cara fireplace cabinet directly on the floor or on top of a table or credenza. To complete the white fireplace, Cara comes with both ice crystals and birch logs. The media area is exposed, for a truly 3D look. If you're installing Cara into a neutral space, you can keep the flames on yellow+orange, and set the accent colours to neutral. If your Cara fireplace is going into a colourful room, you an add blue to the flames and/or set the accent lights to a multitude of colours.
Transitional White Fireplace: Taylor mantel package
Napoleon Taylor is a ready-to-assemble white fireplace mantel package with an Ascent 33-inch fireplace insert included. It has a classic black surround around the firebox. Overall styling is transitional to traditional, and the Taylor is large enough to stand alone as a fireplace feature. It will provide a built-in appearance when set up against any wall with white moldings. Use it to add a quiet focal point to a neutral room, or to give the eye a place to rest in a more colourful space.
Rustic White Fireplace: Charlotte media cabinet
Napoleon Charlotte is a media cabinet with electric fireplace insert. The versatile Cineview insert may be set up with logs or crystals or both. Cineview flames may be orange or blue or both; accent lighting can add more colour or you can choose not to use it. Styling of the Charlotte media cabinet is rustic, with a rubbed-through white finish and cherry wood top. This is a white fireplace that's at home with a modern-farmhouse black & white room, or a cottage-inspired colourful retro interior.
Build a White Fireplace with a low-profile or frameless insert
If you're planning a custom fireplace wall, it's simple to create a white fireplace by choosing white finish materials. To minimize the amount of black in the electric fireplace, look for frameless options. Any 3-sided fireplace is frameless, and may be installed with the ends blocked, as a single-sided fireplace. There are also built-in fireplaces with the option for a frameless installation, where wall materials go right up to the fireplace glass.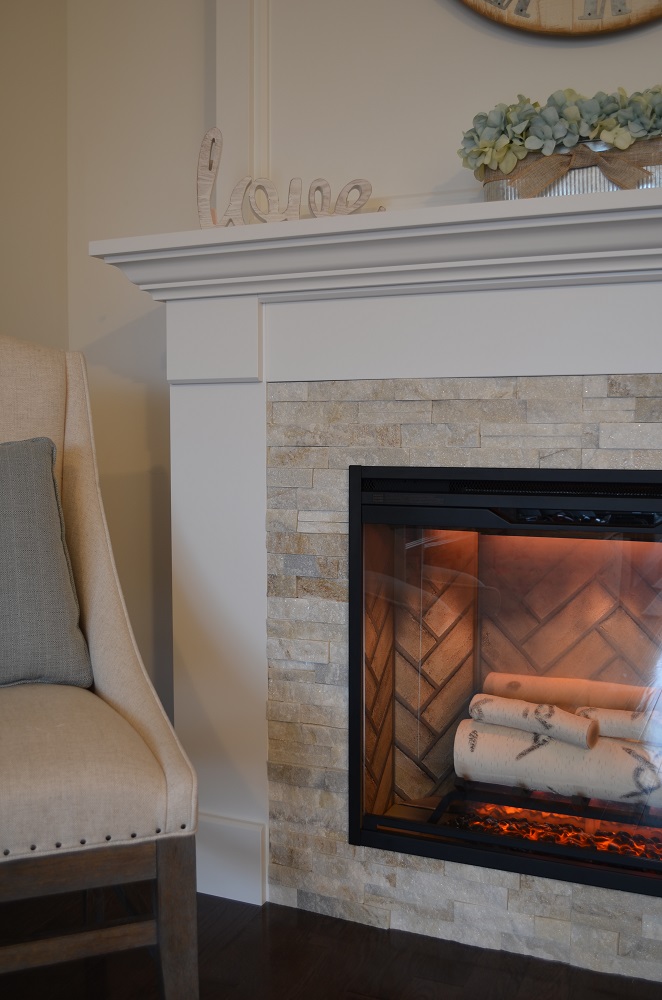 White Fireplace Interior options – birch logs, crystals, stones
The finishing touch for any fireplace is the media kit that goes inside. Electric fireplaces have a huge range of options available, many of which will enhance a white fireplace. Most manufacturers offer birch log kits, as well as clear crystals. Some even offer white rocks as a media package. Regardless of the media kit that comes with your electric fireplace, you can swap it out for another kit, as long as you make sure the new media package was designed to fit into the fireplace depth that you have available.
Stylish Fireplaces knows that adding a fireplace to your home can be challenging. With an electric fireplace and their NFI Certified Hearth Design Specialists, it's easy to create a space you'll love to share with family and friends. Check out all the options and connect with their experts for help to find the perfect electric fireplace for you. You'll live stylishly ever after.