It may come as a surprise to learn that Stylish Fireplaces, specialists in electric fireplaces, carries fireplace accessories for wood-burning fires. As NFI Certified Hearth Design Specialists, we are versed in all types of fireplaces, and we know how challenging it can be to find quality fireplace accessories. For that reason, we have partnered with Stoll Industries to offer their American-made products to our clients. Our design background also means that we are comfortable with Stoll's many customization options (including over 2 dozen finish colours!) and are able to guide clients through their choices. Stoll specializes in all types of steel fireplace accessories and accents, and has done so for over 50 years. Their quality and service are second to none in the industry.
Fireplace accessories are not just about adding a finishing touch to your fireplace. Most of our fireplace accessories also provide an element of safety to the fire, mitigating the effects of sparks or extreme heat, and helping to keep the fire inside the fireplace. Below is an overview of the fireplace accessories we carry, and how they can add beauty and peace of mind to your fireplace.
Fireplace Accessories for all fires: Mantel Shelves
Stoll makes several styles of non-combustible steel mantel shelves for safe installation above any type of fireplace. Their regular steel mantel shelves may be left plain or dressed up with banding and rivets. You may also add decorative shelf supports, LED lighting or Bluetooth to their mantel shelves. Stoll's Transitional mantel shelves are a combination of steel top and bottom, with a wood insert on the face. There are 3 wood finishes to complement their many steel finishes. If you need a mantel shelf that looks like wood but is actually steel, they make that, too.
All of Stoll's mantel shelves come in standard and custom sizes, to fit over just about any size fireplace. Many clients also use them as floating shelves without a fireplace. The shelf you see is actually a hollow 'sleeve' that fits over a long bracket that fastens to the wall along its length. This creates a super-sturdy mantel shelf. Clients use our mantel shelves to create a display space above their fireplace or to deflect heat from the fire below. Pro Tip: Remember that if the mantel shelf is being hit with extreme heat, it will also heat up, so be careful about what you set on top of it.
Fireplace Accessories for wood-burning fires: Fireplace Screens & Doors
This is where Stoll started their business – making fireplace doors for wood-burning fires, to keep sparks and fire inside the fireplace. Their fireplace doors are made to order, to provide an exact fit on the fireplace opening. A typical set of fireplace doors includes a steel frame with tempered glass doors at the front, and mesh doors behind the glass doors. Normally, the glass doors are open when fire is burning, so the mesh doors provide a barrier against sparks and logs moving out of the fireplace. The tempered glass doors may be replaced with ceramic Pyro glass for those who want to burn with the glass closed; Pyro glass can withstand much higher temperatures than tempered glass, like the glass on top of an electric range. You can also change the glass doors to mesh, and have no glass at all. Fitted fireplace doors can be made for any size or shape of fireplace opening, including arches.
Fireplace screens may be free-standing or curtain-style. Curtain mesh looks like chainmail, and is suspended from a small metal rod at the top of the fireplace opening. Free-standing screens sit on the hearth in front of the fireplace opening and must be moved out of the way when loading logs into the fireplace, or cleaning out the ash. Stoll offers regular woven mesh or a single sheet of perforated metal on their custom screens. Free-standing fireplace screens are available in rectangular, arched or triple-panel styles, and are made to order with all of Stoll's finish options. Stoll also offers custom screens with magnets to attach to the front of an existing electric fireplace insert. This can create an extra layer of authenticity for the fireplace. Pro Tip: Many clients purchase fireplace doors and screens for fireplaces that have gas logs, where the fireplace has been left completely open. The doors and screens provide a finishing touch, while keeping cold air from moving down the chimney and into their room.
Fireplace Accessories for wood-burning fires: Fireplace Tools
Fireplace tools allow us to safely adjust logs in the grate, to sweep ash off the hearth, and to shovel ash out of the fireplace for cleaning. They are often over-looked when setting up a wood-burning fireplace. They must be sturdy enough for the job, while looking good sitting in plain sight on the hearth. Stoll offers many different styles of fireplace tools, from traditional to contemporary, in all of their finishes.
Fireplace Accessories for wood-burning fires: Log Holders
Log holders are self-explanatory – they hold firewood for the fireplace. Stoll makes log holders as well as hearth centers (which include the log holder and tools in one station) in styles and finishes to match all of their fireplace doors and screens. They also make circular and semi-circular log holders and log rings up to 48-inches in diameter, for larger indoor wood piles.
Fireplace Accessories for wood-burning fires: Grates
Grates are the most utilitarian of the fireplace accessories. They hold the logs for safe and efficient burning inside the fireplace. These come in various styles and sizes, for different types of fireplaces. Because they are literally at the heart of every fire, they can eventually break down. Be sure to consider a new grate when you update the other fireplace accessories.
Fireplace Accessories for wood-burning fires: Hoods
Steel hoods are generally used across the top of a woodburning fireplace opening, to deflect heat and soot and keep these from creeping up the face of the fireplace. Pro Tip: We have seen clients add a hood to the top of their electric fireplace insert, for added authenticity.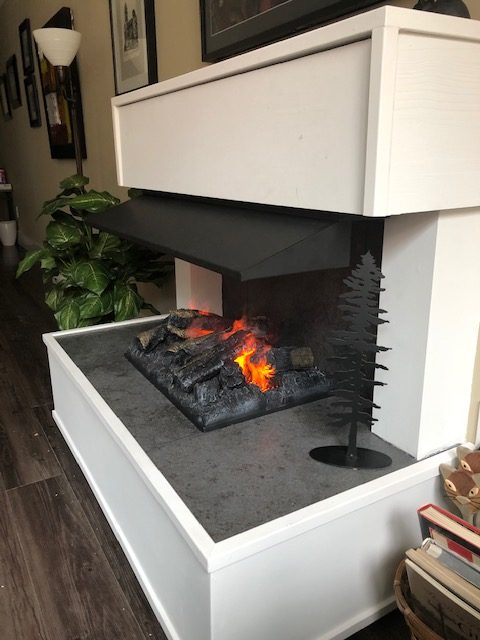 Fireplace Accessories for all fires: Steel Wall Panels
Stoll has taken their expertise in all things steel, and created a wall panel system for fireplaces. The panels are non-combustible, and may be added to any fireplace wall. Like all Stoll fireplace accessories, wall panels may be personalized with rivets, banding and a multitude of finish colours.
Stylish Fireplaces knows that adding a fireplace to your home can be challenging. With an electric fireplace and their NFI Certified Hearth Design Specialists, it's easy to create a space you'll love to share with family and friends. Check out all the options and connect with their experts for help to find the perfect electric fireplace for you. You'll live stylishly ever after.