Are you struggling to find balance in a room that has both a television and a fireplace? It's a common dilemma in many households, and one that's not easily solved. In most rooms, the fireplace is positioned to be the focal point, often in the centre of the longest wall. If there were no TV to consider, furniture placement would be relatively simple. But throw in a TV, and room arrangements become much more complex, as both the TV and the fireplace need to be the centre of attention.
With the advent of flat-screen televisions, the simplest solution is to place the TV above the fireplace. There are 2 main concerns with this idea:
The heat from a wood-burning or gas fireplace is too intense for some TV's
The mantel on the existing fireplace is likely too high to allow comfortable viewing of the TV above
When working with a wood- or gas-burning fireplace, these 2 issues are intertwined, because the mantel is necessary to divert the heat from the TV, and it needs to be high enough to meet clearance requirements of the fireplace below.
What to do? If you replace your gas- or wood-burning fire with an electric fireplace, you can avoid both of these problems. Since the flame effect of an electric fireplace is created without burning any fuel, there are no clearance issues for fireplace surrounds or mantels. Thus, you can go without a mantel, or place the mantel low enough to allow comfortable TV watching. (We recommend that the bottom of the TV be no higher than 42" off the floor.) And at 5000 BTU's or less, the heat output of an electric fireplace will not damage a TV above it. (Compare to a typical heat output of 30,000 to 40,000 BTU's for a gas fireplace.)
An electric firebox can be inserted right into the existing fireplace opening, or you could opt to entirely remove the existing fireplace and start with a fresh new design that incorporates an electric fireplace. Some electric fireboxes actually come with a reduced heat output, in order to minimize the wattage on the unit, so that it may be plugged into the same circuit as your TV, without overloading the circuit. This means that if you are not in a position to add a dedicated outlet to the space, you can still have a television and a fireplace operating at the same time.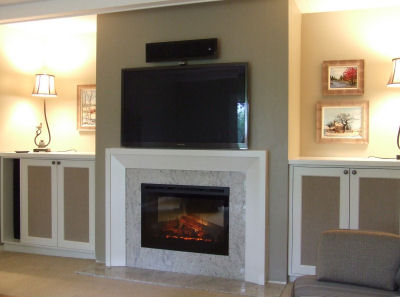 If you prefer a more contemporary look, why not install a wall-mounted electric fireplace on your wall, with the TV mounted above? Just be sure to choose a fireplace on which the heat is expelled out the bottom and not out the top. While the heat output is far less than a gas or wood-burning fireplace, you still do not want any heat directly blowing onto your TV.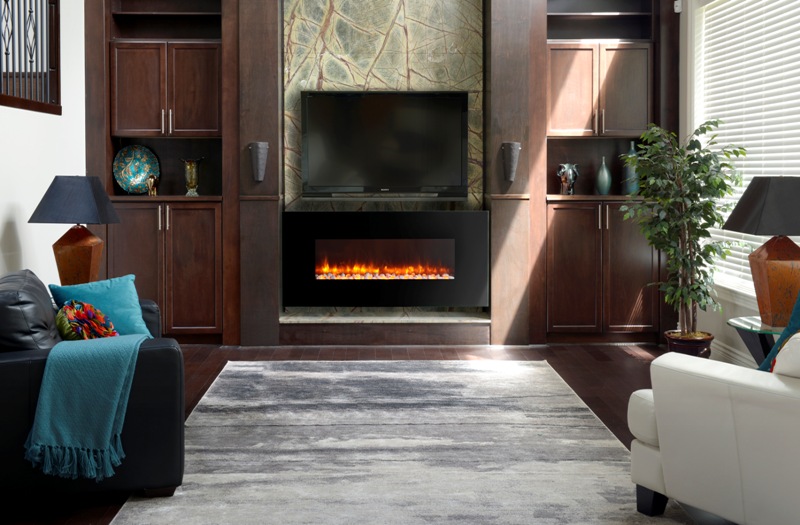 Another great reason to combine your TV with an electric fireplace is the fabulous selection of media mantels that are available. Most entertainment mantels allow you to place your TV on or above the fireplace cabinet, while offering open storage below, for your DVD player and service provider's 'box'. There are also wonderful custom cabinets available which offer storage that's completely hidden behind the panels of the mantel, so that no one knows that your DVD's and components are stored there. These custom units are ideal for homes and condos where the TV room is in the living room, and you prefer to hide all the TV paraphernalia from view.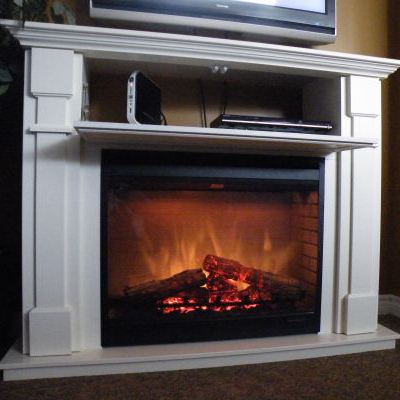 Stylish Fireplaces & Interiors specializes in electric fireplaces and custom designs. Their Toronto-area showroom features over 50 units, with all of the finishing materials required to complete the project. Their expert team can advise on design and technical issues.