Efficient: preventing the wasteful use of a particular resource.
According to our online dictionary, this is the definition of 'efficient'. When we look at electric fireplaces, the resource in question is electricity. But we can also look at whether or not an electric fireplace increases or decreases the efficiency of other home comfort systems. When it comes to your home, you need to evaluate the overall efficiency of all of your choices. After all, what's the point of having the latest, most energy-efficient furnace if your windows and doors are leaking air? Why bother getting the most efficient refrigerator on the market if you are going to leave the door open? None of these things works in isolation, and neither does your fireplace. With that in mind, here's our guide to evaluating the efficiency of electric fireplaces.
Are electric fireplaces efficient? Electricity usage
There is a simple electricity usage calculator on Napoleon's website  You call fill in the actual cost per kilowatt hour from your electrical bill, or use their default setting. Then choose whether you are connecting the fireplace to 120 or 220 volts, how long you use it each day, whether you operate it with flames only or flames + heat, and let it calculate your cost per day, week, month or year.  We did this calculation for 2 different fireplaces that are used for zone heating in cold spaces during the cooler months, and for ambience only during warmer months. Our grand total for electrical consumption for the year for both fireplaces was $193 CAD. This takes into account peak and off-peak rates. The cost to use the flames without the heater is 1 to 2 cents per day, depending on rates. It's only the use of the heater that uses any real amount of electricity. If we were to put an electric fireplace into a room that isn't cold, and run it for ambience only, it would cost us less than $10 per year to operate it 4 hours per day at peak rates. (Based on Ontario rates.) It's not possible to operate any other fireplace for that little!
Are electric fireplaces efficient? Venting
Because there is no combustion in an electric fireplace, there is no need for venting. This means that there is no need to break through the exterior wall of the house. Any time that you break through the exterior, or building envelope, you are creating a place for interior air to exit, and for exterior air to enter. It creates a hole in the insulation and vapour barrier and adds a conduit for heat and cold to pass through. Because an electric fireplace doesn't require this, it has no detrimental effect on the overall efficiency of your home.
Are electric fireplaces efficient? Heat independent of flames
Almost all electric fireplaces have built-in heaters with blowers. However, you always have the option to operate the flames without the heater on any electric fireplace. This means that you never have to worry about overheating even the smallest space. You can have flames + heat when you want it, and flames-only when you don't need heat. Because you have the option to enjoy the flames without the heater, the use of electricity is controlled. As noted in our sample electricity calculation above, the cost of running the flames without heat is minimal, even at peak rates. That's because the flames are created with LED technology, which uses very little power.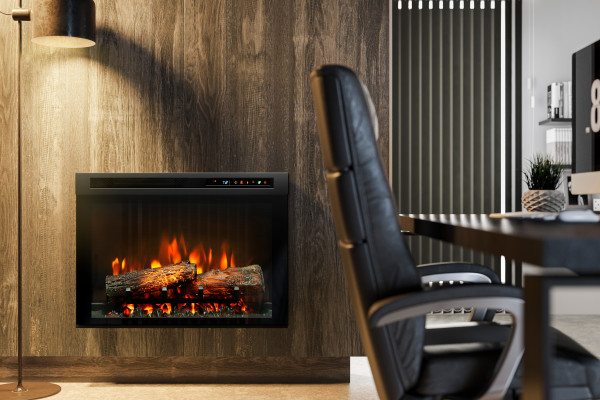 Are electric fireplaces efficient? Zone heating
Electric fireplaces are capable of producing up to 5000 BTUs of heat on a 120 volt connection, and 10,000 BTUs on a 220 volt connection. With 5000 BTUs, you can warm up an area of about 400 square feet, which is enough heat for most rooms in the average home. Basements can be larger, and that's often where we like to connect an electric fireplace to 220 volts, to get more power for the heater, and a higher heat output. Of course, the electric fireplace is almost never the only source of heat in the space; it's supplemental heat. Electric fireplaces have just enough heat for a single room, and are ideal for zone heating, whereby you heat up just the space you are using. If you have a room above the garage, or a cool basement, trying to set the furnace high enough to warm up those areas will make the rest of the house too warm. This is wasting the energy used to power the furnace. Zone heating a cooler space with an electric fireplace saves you energy elsewhere, because you can set the furnace to a lower temperature for the rest of the house, while keeping the space you're in comfortable.
By comparison, a small gas fireplace pumps out 15,000 to 20,000 BTUs of heat, which is too much for most rooms. This heat source can also trick the furnace into shutting down, if the furnace controls are too close to the gas fireplace. You then end up with two extremes in the home: a room that's too hot, and the rest of the house that's too cold. It's not energy-efficient and it's not comfortable.
Are electric fireplaces efficient? To summarize, electric fireplaces are energy-efficient plus they can improve the overall efficiency of your home.
Stylish Fireplaces knows that adding a fireplace to your home can be challenging. With an electric fireplace and their NFI Certified Hearth Design Specialists, it's easy to create a space you'll love to share with family and friends. Check out all the options and connect with their experts for help to find the perfect electric fireplace for you. You'll live stylishly ever after.