Once you've determined what type of fireplace you currently have, and you've taken measurements, it's time to select an electric fireplace insert that meets your needs. (See Part 1 of this series to learn about the types of gas and wood-burning fireplaces, and how to take measurements.)
Electric fireplace inserts to replace zero-clearance wood-burning fireplaces
A zero-clearance wood-burning fireplace is basically a big metal box surrounded by brick facing. Once that metal box is removed from the wall, it leaves a generous cavity in which to place an electric fireplace insert. The most challenging part of the project may be removing the metal box without damaging the bricks, especially if you are not planning to cover the bricks. We have yet to have any problems doing this, but you should be careful if it's your first time.
When fitting an electric insert into this type of cavity, it is very unlikely that there will be an insert that is exactly the same size as the cavity. If you are refacing your brick, then you can use the new wall-coverings to resize the firebox opening so it will fit whichever insert you choose. If you are not refacing the brick, then you will need an insert that has a trim option, to cover any gaps between the brick and the insert.
The electric insert that most often fits the opening left behind by the removal of a zero-clearance firebox is the Dimplex BF39DXP. It has an optional trim kit, plus a choice of glass and door options for the front. This is a very deep insert, as electrics go, but the large opening left behind by the removal of a zero-clearance box is more than enough to handle it.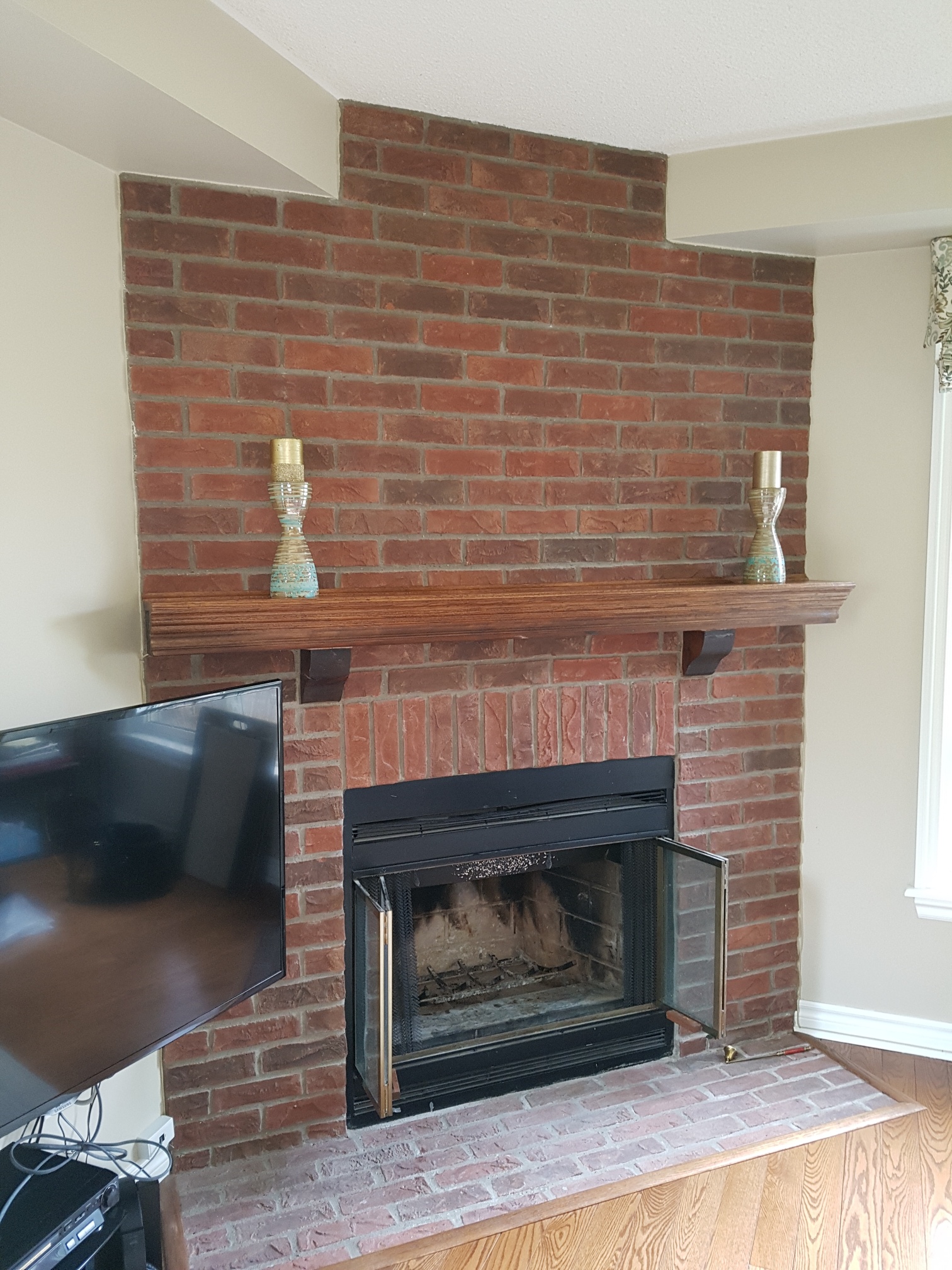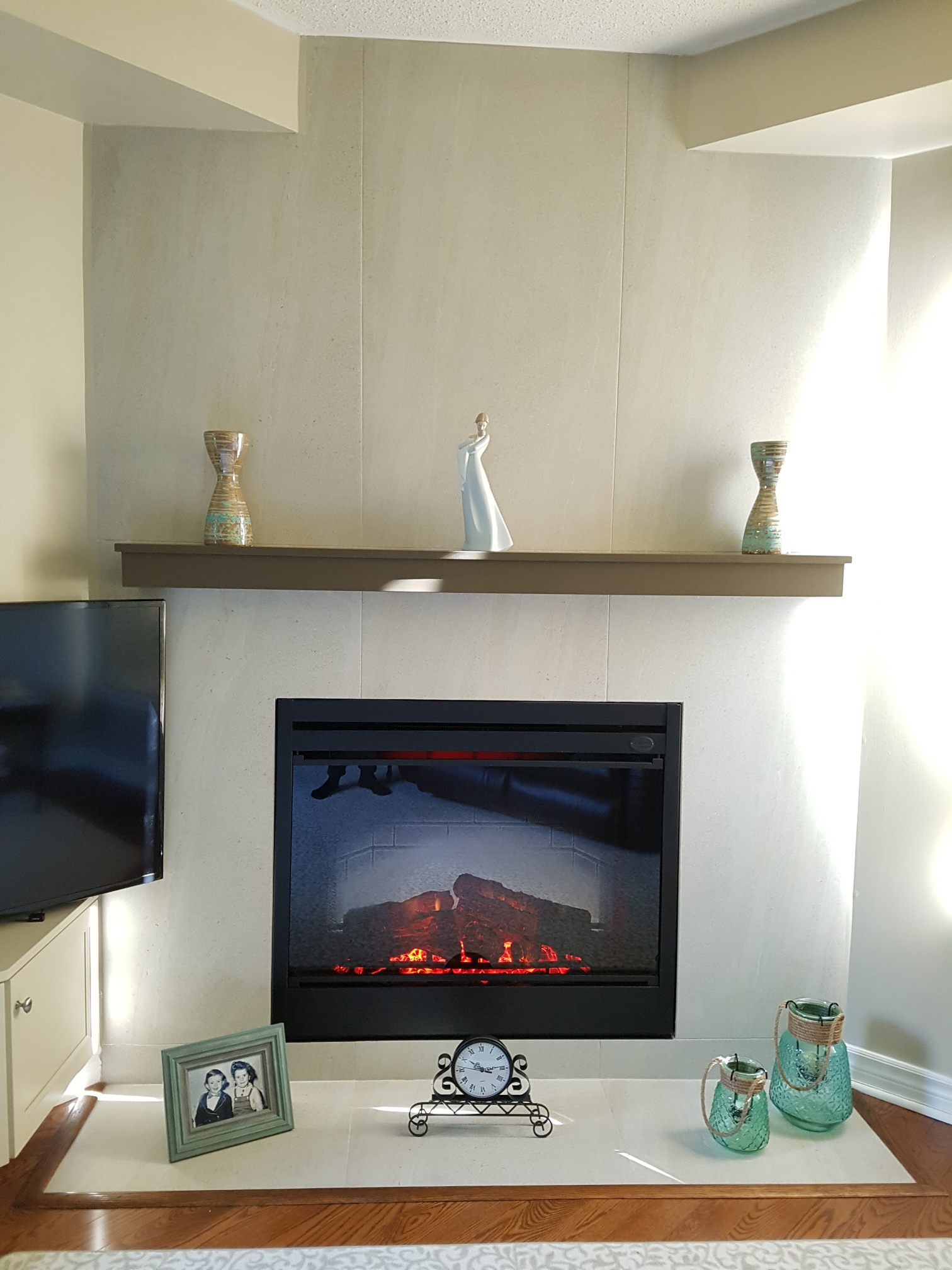 Another electric fireplace insert with optional trim kit is the Amantii TRD-38. It's a slightly more linear shape than the other inserts, and it comes with more contemporary media kits, so it's a way to modernize the fireplace without completely changing it.
Napoleon also makes a couple of inserts in this size range: Ascent 33-inch NEFB33H and Element NEFB36H-BS. Neither of these have trim kits, so they are only suitable for situations where the opening can be resized during refacing.
Of course, rather than refacing the fireplace, you could choose to just build a new fireplace wall in front of the existing wall. Because linear electric fireplaces are slim enough to fit into a 2×4 or 2×6 wall, they don't add a lot of depth to the existing fireplace. This means that you can get a completely new look, without being limited by the size and shape of the existing opening. Most of the brick wood-burning fireplaces that we encounter are about 72-inches wide. A 50-inch linear electric fireplace will fit nicely into this size fireplace. Our most popular 50-inch linear models are shown below.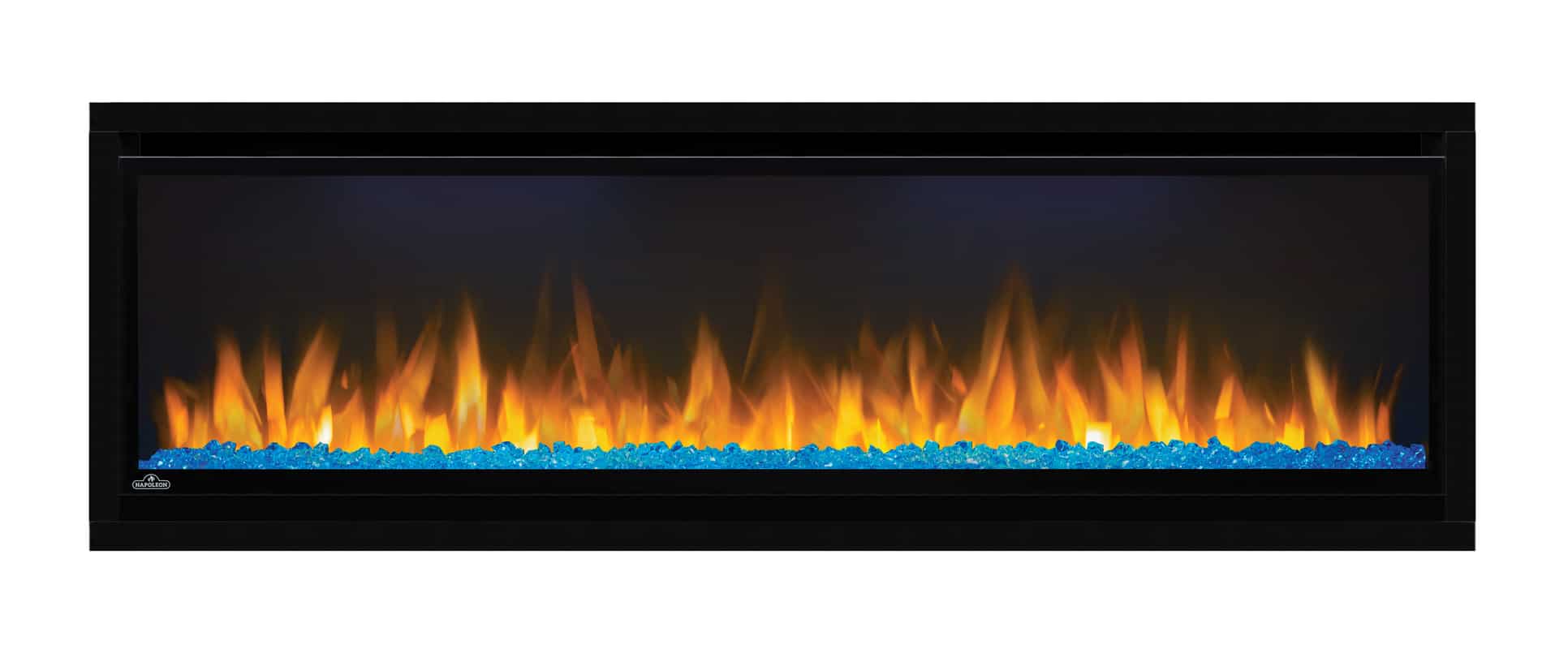 Electric fireplace inserts to replace builders' gas inserts
When a builder's gas insert is removed from the wall, it is similar to the removal of a zero-clearance wood-burning insert, in that it leaves quite a large opening. However, the structure around the builder's gas fireplace is usually a simple surround and cement-board, rather than brick. This means that it's relatively simple to remove the surround and reframe the wall to suit a completely new style of fireplace.  In this case, see the linear models mentioned above. Most have larger versions in the same model, if your wall is calling for a larger fireplace.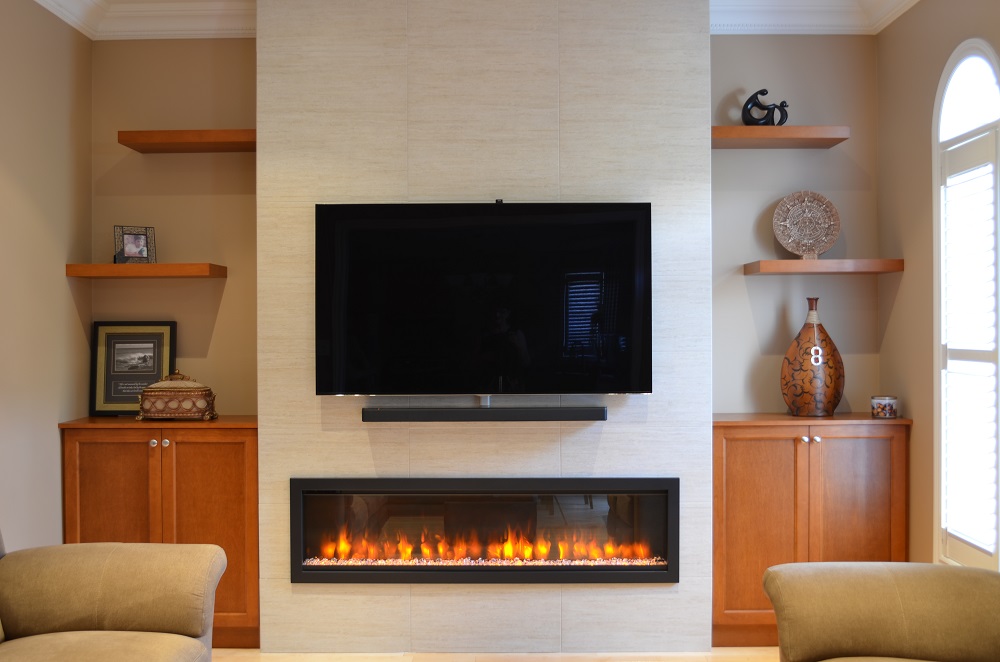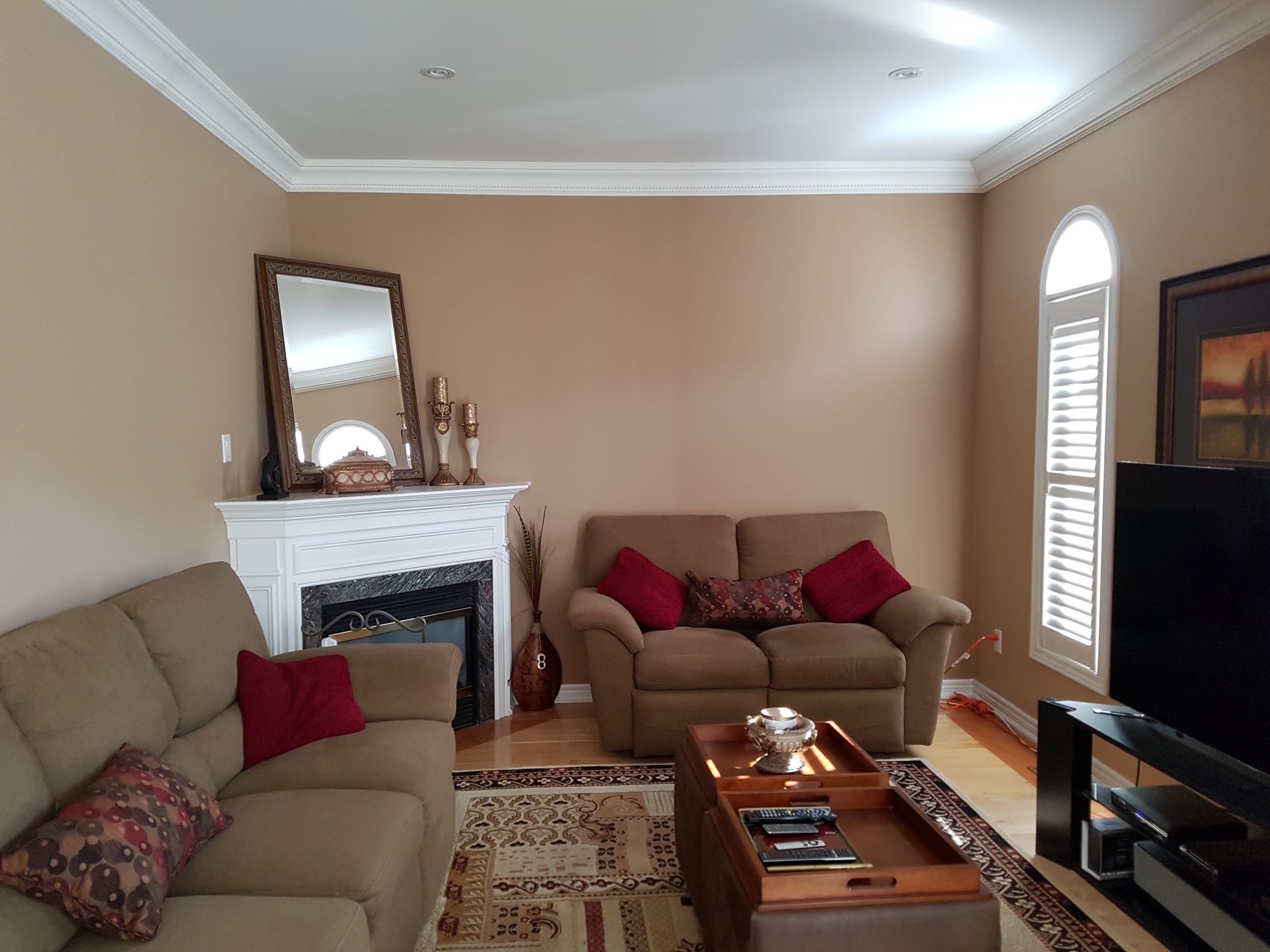 Electric fireplace inserts for masonry fireplaces
If your wood-burning fireplace is a true masonry fireplace, then there is nothing to be removed in order to add an insert. This means that you must work with the dimensions of the original opening, if you want to preserve the original brick or stone. Unfortunately, there is no such thing as a standard size when it comes to masonry fireplace openings. For this reason, it is critical that you get accurate measurements of the opening prior to looking at insert options.
As with zero-clearance wood-burning fireplaces mentioned above, the chances of finding an exact fit for your masonry opening are pretty slim, so it's best to focus on inserts that have a trim option for covering gaps. You will also find that you will end up going a bit smaller on the insert because it must fit a much smaller opening than with a zero-clearance opening.
The Dimplex RBF24DLX with trim kit is a great option for masonry fireplace. It has one of the most realistic flames available, and is compact enough to fit most fireplaces. You can choose from traditional Herringbone interior or more sedate Weathered Concrete. It also has changeable logs, allowing you to swap out the original logs for either Birch or Fresh-Cut.
If even the smallest insert won't fit your opening, then you may need to consider a log-set. This is a grate with logs that glow just like the logs inside an insert. However, there is no metal box or glass face around the logs, so they may fit where an insert won't. They sit directly inside your fireplace opening, where you used to burn real wood. Like inserts, they plug in and they offer heat on demand. Some log-sets, like the Napoleon Woodland series, bounce the flames off the back of your natural opening. Other log-sets have their own integrated screens on which the flames are projected, as with the Dimplex Revillusion series. While log-sets are less bulky than inserts, they may be deeper than an insert, from front to back; be sure to double-check the width inside your opening, to be sure the log-set will be able to be recessed all the way inside.
A note about fireplace depth: Wood-burning openings are deeper than electric inserts and log-sets, so you may thing that depth will never be an issue. However, most wood-burning openings get narrower as you get toward the back of the opening. This means that the insert or log-set may look like it fits the front of the opening, but as you push it further into the opening, it can bump into the narrowing walls.
Stylish Fireplaces knows that adding a fireplace to your home can be challenging. With an electric fireplace and their NFI Certified Hearth Design Specialists, it's easy to create a space you'll love to share with family and friends. Check out all the options and connect with their experts for help to find the perfect electric fireplace for you. You'll be the star of your own makeover!